'Makei's Passing Away Is Implementation Of Karma Law In Belarus'
25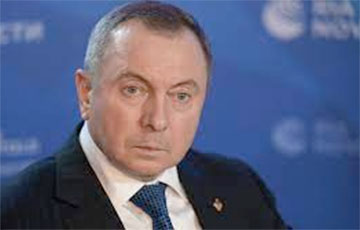 Who moan about Lukashenka's minister while the Belarusians rejoice?
The sudden death of Uladzimir Makei, head of Lukashenka's Foreign Ministry, is commented for Charter97.org by the coordinator of the European Belarus civil campaign, Zmitser Bandarenka.
- After Makei's death, a lot of Belarusian political analysts and the media started remembering Lukashenka's minister as a "Westerner and a liberal". Was the head of Foreign Ministry really such a person?
- Makei was one of the pillars of Lukashenka's regime and one of his main executioners. He was very close to the dictator when he worked as his assistant for many years. Then, when he was head of his administration for four years. Later, Makei was important to Lukashenka because he secured the inflow of loans from the West and trade with Ukraine under the guise of a Foreign Ministry "liberal".
I will say that when I was in the KGB prison after the 2010 Square crackdown, the future Interior Minister Shunevich came to us periodically for interrogations incognito. He introduced himself as a person close to the Lukashenka administration.
At that time it was Makei who was in charge of the administration. I can affirm that Makei was personally in charge of the whole operation aimed at torturing and abusing the presidential candidates and members of their headquarters in 2010.
We knew from several sources that the enforcers (we called them "masks"), who entered "Amerikanka" (unofficial name of the KGB pre-detention center - approx.) a few days after our arrests and were especially brutal, were from Lukashenka's security service.
The foundations of the mass terror of 2020 were laid in 2010. It was then that the Square was dispersed for the first time just hours after the elections, and most presidential candidates were arrested. Torture and ill-treatment started immediately. Hundreds of people ended up in Akrestsina. Makei was in charge of the operation. Even before that he appeared on TV and spoke about some "explosions" and "provocations being prepared". According to the information we have, Makei was also involved in organizing the explosion in the Minsk underground, which resulted in numerous deaths.
Then Makei was sent to the West to lift sanctions, to find the most immoral partners for trading with the Lukashenka regime. At the same time in 2012, when Makei became the Minister of Foreign Affairs, Ihar Shunevich was appointed Minister of Internal Affairs. So they played this game, where Shunevich was a "hard-headed NKVD man" and secret service colonel Makei was supposedly a "liberal". By the way, in 2012, Pavel Latushka was sent to Paris for seven years to whitewash the criminal regime. It allowed them to mislead both useful idiots in the West and pseudo-analysts and pseudo-independent journalists inside the country.
- Why then there is such bitterness on the part of these analysts and journalists? Don't they remember what Makei was doing in 2010?
- The reaction is very interesting, as we see undisguised joy in the majority of Belarusians. Belarusians clearly understand that Makei is a part of the regime and his passing away is a certain implementation of the karma law in Belarus. At the same time, the unconcealed grief of some analysts, journalists, editors of pseudo-independent mass media is surprising. Their ideologist and leader is gone.
At the time when we were imprisoned, when Mikalai Statkevich was in prison till 2015, when the screws were tightened on civil society in Belarus, when the most active figures were punished, when infiltration of agents in opposition political parties and media reached unbelievable numbers, it was a remarkable period for a number of analysts and editors.
I talked to some editors and they made no secret of receiving instructions from the Lukashenka administration. On the one hand, they had the image of "freedom fighters", but at the same time they said they were "above the fray". This meant that they could simultaneously receive grants, place advertisements in numerous pseudo-independent media which was in principle impossible, receive insider information from the police and KGB on various economic and criminal topics, build houses and luxurious flats. It was a golden time for them.
Nevertheless, today the majority of Belarusians absolutely understand that Makei was an executioner and a servant of the Belarusian dictator.
- Are there any people of pro-Western and liberal views inside the system built by Lukashenka?
- I think, strangely enough, they are the majority. All these people have one thing in common: they would like to live like in the West, to be paid like in the West, while the people should live in virtual slavery and under a totalitarian regime. In this respect they are quite "liberal" and "Westerners" for themselves and their family. One can look at the palaces in Drazdy, as well as in similar settlements all over Belarus. It is clear that they do not even want for appearance's sake to live like Gaddafi, for example, in a Bedouin tent. They want to live "more western". They can be considered even "pro-European" in that sense.
We know how power changed in the countries of socialism. Lots of officials then fitted perfectly into the new system and, in fact, even became the beneficiaries of this change with the return of capitalism in their countries. They did not want to fight, as they always lived times better than most people. The same kind of people are next to Lukashenka even today.
- State mass media did not give much significance to Makei's death, and Lukashenka himself expressed very scanty condolences. What is the reason?
- Recently, Makei's existence has become meaningless for Lukashenka, because Western sanctions have come into effect and trade with Ukraine has stopped. All the advantages of Makei's position disappeared. On the contrary, when Lukashenka saw Makei, he immediately remembered the sanctions, the threats of the tribunal against him, the non-recognition of himself as a figure in the West. It is clear that for Lukashenka's paranoid mind, Makei was responsible for all that.
Why should he care? All the former associates are trash to the dictator. We know that he killed many of those people who started with him in 1994. Lots of them went to prison or died of disease. It was hard to expect a different reaction from the state media here.
Yet look at the contrast: a number of pseudo-independent media outlets are in sincere sorrow, while propagandists ignore Makei's death altogether. This is such a curious point.
- Makei's death has given rise to a discussion of a sudden removal of Lukashenka from power: death, overthrow. How can Belarusians prepare for such scenarios, so as not to become passive observers?
- What a sudden overthrow or sudden Lukashenka's death are you talking about? It is high time for him to leave in all senses. He has long "outlived his poison", as it was said about the snake in the cartoon "Mowgli".
Our situation is different. There is a war in our region. In fact, Belarus is already taking part in the war Lukashenka has dragged it into. All of us must realize well what reality we are living in.
We must preserve the independence of the country, return freedom, and it can be done only by an armed force. What is required of Belarusian politicians today is to create new unions, assistance to Belarusians at home and abroad, military assistance for the Regiment named after Kastus Kalinouski. It is necessary to create a really big military unit, up to a division or several brigades on the territory of Ukraine.
It is necessary to be ready to return to Belarus from all sides. Inside the country, one should interfere with the regime in every possible way and be ready for the "X-hour", when one must act decisively and quickly. One has to think about it.
Thank God, the absolute majority of the Belarusians are still against Lukashenka, we have leaders, heroes, very powerful allies with advanced weaponry, therefore the regime of the evil usurper will inevitably be swept away.