House That Authorities Presented To the Hero Boy's Family Got Fire Due To Faulty Wiring
14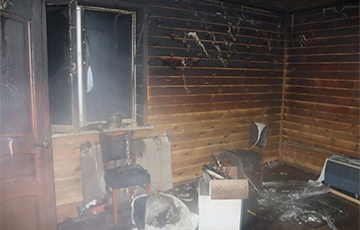 The propagandists decided to hide it.
Many Belarusians followed the story of 12-year-old Raman Kahadouski from the Miadzel district, who carried his one-and-a-half-year-old brother out of a burning house more than a year ago. The hero boy had 22 surgeries. The local authorities gave the family a new house.
As the Charter97.org website found out, on December 3, in the village of Zanarach, the house donated to the family of Raman Kahadouski caught fire due to faulty electrical wiring.
The Narochanskaia Zaria local newspaper first published the news but then decided to remove it, as it was frightened of the public outcry because the family is known throughout Belarus. Photos are still available in Google cache.
"On arrival at the place of the call, it was found that the roof of the house was on fire. The fire damaged the roof on an area of 21 square meters and the walls and ceiling were smoked over the entire house building," the newspaper reported.
The donated house was non-residential at the moment, repairs were carried out there. It turns out that the authorities gave the family a house with faulty wiring.
Fortunately, no one was injured.