Johnson Offers Zelensky Large-Scale Training Program For Ukrainian Military In Britain
7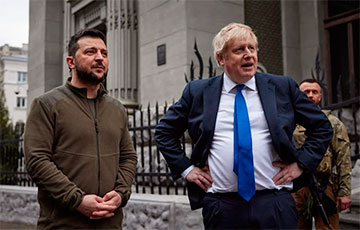 This can change the balance of the war with the Russian Federation.
British Prime Minister Boris Johnson, during a previously unannounced visit to Kyiv, offered Ukrainian President Volodymyr Zelensky a program to train the Ukrainian military on the territory of Great Britain. This has been reported by European Pravda with reference to the press-center of the British government.
"The Ukrainian military is using British missiles to protect the sovereignty of your state, but also to protect the same freedoms that we take for granted. That is why I offered President Zelensky a massive new military training program that could change the balance of this war," Johnson noted.
The British PM specified that the military of the United Kingdom could provide training for up to 10,000 Ukrainian servicemen every 120 days.
"Two months after my last visit, the courage, determination and resilience of Ukrainians is stronger than ever, and I know that unstoppable determination will survive Putin's futile ambitions," Johnson concluded.
It is important to note that Great Britain is one of the largest donors of military aid to Ukraine.
British Prime Minister Boris Johnson arrived in Ukraine on Friday with an unannounced visit.
According to Head of the Office of the President of Ukraine Andriy Yermak, during the meeting the parties discussed "the need to supply heavy weapons and air defense systems, economic support for Ukraine, increased sanctions pressure on Russia, in particular the proposals of the McFaul-Yermak international group, as well as security guarantees for Ukraine and the need to compensation by Russia for the damage done to our state."