Strike On Antonivsky Bridge Captured On Video At Extremely Close Distance
8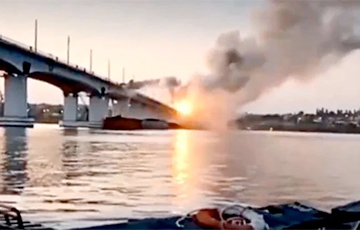 You haven't seen "smoking" on the bridge from this angle yet.
A video of the strike on the Antonivsky bridge in Russian-occupied Kherson, taken at extremely close distance, has appeared on social networks.
The relevant footage was published the day before, on September 4, by the Strategic Communications Department of the AFU.
"You haven't seen smoking on the Antonivsky Bridge from such an angle yet," reads the description to the video shot by an unknown eyewitness from a ferry a few hundred meters away from the area hit by the rocket fire.
At the same time, it is not specified when exactly the footage was taken.
The Ukrainian Armed Forces continue to keep the Antonivsky bridge and other Dnieper crossings in Kherson Region under fire control, preventing the occupants from restoring strategically important crossings.