Heavy sentences to participants of trial of 14 (Photo, video)
58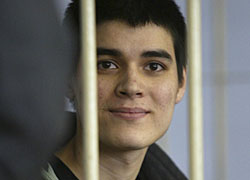 Youth activist Andrei Kim is sentenced to 1.5 year in penal colony by the Tsentralny district court of Minsk. Other participant of the trial of 14 – Alyaksei Bondar, Artsyo Dubski, Mikhas Kryvay, Mikhas Pashekvich, Ales Straltsou, Ales Charnyshou, Tatsyana Tsishkevich - are sentenced to correctional works without sending them to penitentiary institutions. They must charge the state 20 per cent of their wages. Anton Koipish and Uladzimir Sayrheeu are fined of 100 basic units. The judgement was read by judge Alena Illina.
Andrei Kim is found guilty in participation in the unauthorised protest action, and also accused of violent acts against traffic militia officer Yury Sychou. But guilt of Andrei Kim wasn't proved at the trail. Video materials, shot by the KGB, the Ministry of Internal Affairs and the Belarusian Television, showed Sychou was hit by another militiaman. Andrei Kim didn't come near to the militiaman.
One of the accused, Anton Koipish, was taken by emergency ambulance from the courtroom. The activist felt bad, he had high blood pressure.
People, who came to support the activist, met the judgement with shouting "Freedom!" "Long live Belarus!" and "Shame!". Youth activists also held a protest action near the court. They formed a chain near the court wall. Each of them had a sheet of paper with a letter, together they made up a phrase "For what?"
The prosecutor demanded 2 years of imprisonment for Andrei Kim, 2.5 of restriction of liberty for M. Pashkevich, A. Dubski, and A. Bondar, and 2 year of correctional labour without sending them to penitentiary institutions.
From three to five thousand people attended the rally of entrepreneurs in the Minsk center on 10 January, organised against presidential decree No 760. Dozens of them were detained and beaten up.
14 participants of the rally were charged with riot. Alyaksei Bondar, Artsyom Dubski, Andrei Kim, Anton Koipish, Mikhas Kryvay, Mikhas Pashekvich, Ales Straltsou, Uladzimir Sayrheeu, Ales Charnyshou, and Tatsyana Tsishkevich have had trial today.
Alyaksandr Barazenka, Paval Vinahradau, Mikhas Subach, and minor Maksim Dashuk, will have trial later. They didn't have enough time to learn the material of the criminal case, so the trial was postponed sine die.