Bakiyev and his family are in Minsk
107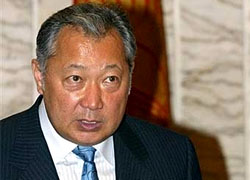 Such a confession has been made by Lukashenka today when he was answering questions of "deputies".
The former president of Kyrguzstan Kurmanbek Bakiyev is in Minsk, said Alyaksandr Lukashenka, answering questions of deputies on April 20.
"Kyrgyz president Kurmanbek Bakiyev and his family are in Minsk under the protection of our state and me personally," Lukashenka noted.
"On Monday at night I ordered appropriate services of my administration to organize Bakiyev's transfer to Minsk," Lukashenka said.
After Bakiyev's arrival to Kazakhstan on April 16 after seizure of power by the opposition his whereabouts were unknown.
"At present I have orderded to create a medical commission and make a medical check-up of him and his family," the Belarusian leader said.
He has also informed that he ordered to provide humanitarian aid to the Kyrgyz nation: "I have given a task to send food and all necessary items to Kyrgyzstan. Poverty there is awful".