Andrei Sannikov's initiative group registered
99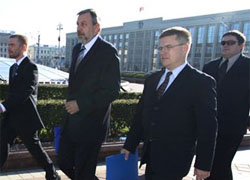 The Central Election Commission registered an initiative group for proposing European Belarus campaign leader Andrei Sannikov as a presidential candidate.
The decision of the Central Election Commission was taken unanimously. Andrei Sannikov's initiative group includes 2003 people.
"I am happy my initiative group is registered. I am pleased with how the people worked. They had to work day and night, under surveillance, wiretapping, and psychological pressure. I am sincerely thankful to the people who joined my initiative group and thus gave serious support to me.
At the same time, I must say that according to the letter and spirit of the law, CEC head Yarmoshyna doesn't have the right to perform her duties, so she must resign. I remind that international sanctions are imposed on Yarmoshyna for her leading role in election falsifications. But my mistrust is connected with the facts of the running campaign. Yarmoshyna has recently said in public she was a member of Lukashenka's team and ha started a campaign to support him today.
This excludes unbiased performing duties by her and insults the Belarusian voters, the people of Belarus. Besides, I think registration of an initiative group of Lukashenka, who has repeatedly violated the Constitution and doesn't have the right to run in this election, is unlawful," Andrei Sannikov said.
Uladzimir Kobets has been appointed head of Andrei Sannikov's initiative group.
Uladzimir Kobets was born November 7, 1971. He graduated from Geography Faculty at Belarusian State University and Academy of Public Administration under Aegis of President. He worked for the Ministry of Natural Resources and Environmental Protection. He was one of the founders of Zubr resistance movement. He is a participant of the Eastern Partnership Civil Society Forum. He has good contacts with European and American politicians. The MFA of Slovakia awarded his with a medal for personal contribution to development of democracy and civil society.
Initiative groups of Alyaksandr Lukashenka, Yaraslau Ramanchuk, Uladzimir Nyaklyaeu, Yury Hlushakou, Ales Mikhalevich, Ryhor Kostuseu, Syarhei HAidukevich, Mikalai Statkevich, Syarhei Ivanou, Dzmitry Us, Ivan Kulikou, Pyotr Barysau, Uladzimir Pryvalski, and Syarhei Ryzhou have also been registered today.