Mikhalevich left Belarus
253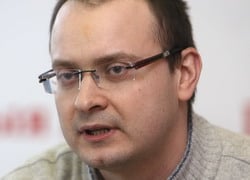 The presidential candidate has written in his blog that now he is in the place "out of reach for the KGB".
On March 14 in the blog of Ales Mikhalevich a message appeared: "I am summoned to the KGB for Investigative actions. I have grounds to believe that I would not be able to leave the building of the KGB any more. So I'm not going to visit the KGB. Now I am in a safe place out of reach of the Belarusian KGB. I am going to continue the work on putting an end to tortures and release of everyone who are unlawfully imprisoned on political reasons."
"For Freedom" movement informs that Mikhalevich managed to leave the country in the night, and the trip to "a safe place" has taken 24 hours. His family is left in Minsk. "I have only one reason which justifies my steps – it is a real physical threat," Mikhalevich said to the website of the movement. "Everyone sees that these people are ready to go any length, there is no legality and transparency and in their actions."
The politician is accused a in the so-called December 19, 2010 mass riots criminal case (Article 293 of the Criminal Code). He was detained on December 20 overnight. In tow months, on December 19, he was released on recognisance from the KGB jail.
On February 28 at a press-conference in Minsk Ales Mikhalevich stated that he had been released from the KGB pre-trial detention centre after his pledge to collaborate. As said by the politician, he had been forced to make this step "because of awful incarceration conditions in the KGB jail, which could be regarded as tortures." As stated by Mikhalevich, he was put on a stretch in handcuffs; taken out into the cold; forced to stand against a wall for 40 minutes; electric light was not switched off at night; floor in the cell was painted with acetone-based paint, the prisoners were forced to breathe it in; they were kept in an overcrowded cell.