Iryna Khalip to stand trial in court of Zavadski district of Minsk
27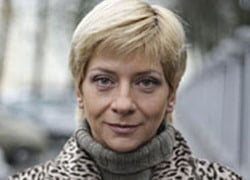 The Minsk City Court sent a case against Iryna Khalip, the wife of presidential candidate Andrei Sannikov, to the court of the Zavadski district of Minsk.
Co-head of the Belarusian Christian Democracy party Pavel Sevyarynets and Syarhei Martseleu, the campaign's manager for candidate Mikalai Statkeivch, are involved in the same case.
"The case has just been received by the court. A date and a judge have not been appointed," Interfax-Zapad news agency learned from the Zavadski district court.
Iryna Khalip, Syargei Martseleu and Pavel Sevyarynets are charged under part 1 of article 342 of the Criminal Code of Belarus – "taking part or organizing the actions that violate public order". Pavel Sevyarynets and Syarhei Martseleu are in custody, Iryna Khalip is under house arrest.