KGB has carried out a third search in the flat of Sannikov and Khalip
62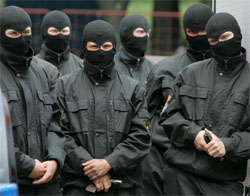 On 8 April the KGB carried out a third search in the flat of presidential candidate Andrei Sannikov and journalist Irina Khalip.
Lyutsina Belzatskaya, the mother of the journalist, informed "Radio Svaboda" of this fact.
"How many times have they been here already? What else is it possible to find? By our reckoning, this is the third search by the KGB alone; the police were here, too. They were searching for something for about an hour, Irina says. But at the time I wasn't there; I don't know the details."
According to Lyutsina Belzatskaya, three year old Daniel also was not there at the time of the search in the house. However, earlier he was present when three KGB officers were there. "He was sitting down and not moving; he remained silent," recalls the grandmother of Daniel.
Lyutsina Belzatskaya does not know how the KGB officers explained the need for yet another search in the flat of Sannikov and Khalip. On 7 April, Irina finished reading about her case, in which she is presented as an organiser of actions which breach public order.