Zmitser Bandarenka's case sent to Minsk City Court
8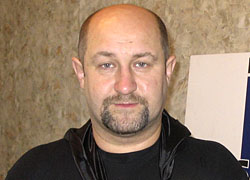 A criminal case against Zmitser Bandarenka, an election agent of Andrei Sannikov, has been sent from a prosecutor's office to Minsk City Court.
The information was spread by Interfax-Zapad news agency with a reference to prosecutor's assistant Syarhei Balashou. According to him, Bandarenka's case has been sent to the city court "to lay the venue".
As reported, Pavel Sevyarynets, an election agent of presidential candidate Vital Rymasheuski; Syarhei Martseleu, camapign's manager for Mikalai Statkevich; and Andrei Sannikov's wife journalist Iryna Khalip are involved in this case. They are charged under part 1 of article 342 of the Criminal Code of Belarus.
According to information from Interfax, Zmitser Bandarenka, Iryna Khalip, Syarhei Martseleu, and Pavel Sevyarynets are also accused of founding artificial grounds for imposing sanctions by the USA and EU countries.