Provocation against Dashkevich staged by police secret collaborators
36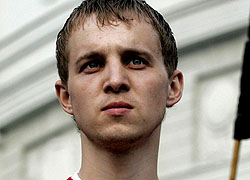 "Beaten" passers-by turned out to be non-staff workers of the police department of Zavadski district of Minsk.
As informed by "Young Front" press-service, "the aggrieved" in the case of Dzmitry Dashkevich and Eduard Lobau were non-staff policemen Kanstantsin Savitski and Aleh Malyshau. Moreover, Malysjau was previously convicted under article 328 of the Criminal Code "Illicit manufacturing, buying, keeping, transporting of narcotic drugs, psychotropic substances or precursors with the aim of manufacturing such drugs or substances."
During the trial under the decision of the court"the aggrieved persons" did not show their faces and stated that Dashkevich and Lobau had allegedly attack and beaten them. The mysterious victims of the crime stated that they were unemployed and did not have previous convictions.
"If our investigators, prosecution bodies and our humane court were not corrupt and submissive, they would found out that Malyshau had sent to prison 2 persons under Article 328 Part 3 (selling of illicit drugs). I must observe again – in the court Malyshau stated he had never been a witness in other cases," Dashkevich writes in cassation appeal.
The leader of the Young Front demands the judge to study the materials of the criminal case and the newly provided information, and expresses the hope that the judge would take a right and just decision – to release the guys, and to bring Kanstantsin Savitski and Aleh Malyshau to criminal responsibility under Article 400 (false denunciation).
The cassation appeal to be heard on June 17 at 10 a.m. in Minsk city court.