Zmitser Bandarenka: Central question is free election
28
Maryna Koktysh, "Narodnaya Volya"
15.05.2012, 11:47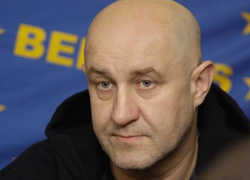 A former political prisoner Zmitser Bandarenka has given a big interview to "Narodnaya Volya"
Health
- You were sent to an operating table right from the remand prison. And you were operated not for a trivial appendicitis but you underwent a serious spinal surgery. Did you trust doctors under those conditions?
- I had absolute trust in doctors of the 5th clinical hospital, I was treated there before arrest as well. I certainly had less trust in the doctors of the prison hospital, as they are doctors and internal services officers at the same time.
- But have they provided any noticeable assistance? Or is it true what they say about remand prisons, that they offer just aspirin for any disease?
- My health considerably deteriorated around February 2011. When I was incarcerated in the KGB remand prison, I asked to provide medical assistance, organize consultations of a neurologist and magnetic resonance tomography for me. I was told, well, it is possible technically, but they had not done anything. A real medical aid (even as far as anaesthesia is concerned) became possible only after June 22… In May I was made magnetic resonance imaging, and I was provided medical assistance only at the Republican hospital for prisoners. Then questions concerning the operation arose, should it be done or not? I was promised a consultation of a neurosurgeon at the remand prison, however at the supreme moment I was told: the doctor allegedly said, without examining me, in my absence, that I do not need operation. I objected: I had severe pains, and still I wanted to talk to civil doctors. I was told: either I agree for an operation immediately, or I go to the colony in such a state. During the nearest meeting I asked an advice of my wife. I warned that after the operation I can leave the ward in a wheelchair. She answered: "Everything is in the hands of God, I will transport you in a wheelchair if needed." It set my mind at rest to some extent, and I agreed for a surgery. Though I had all kind of thoughts, as prisoners have lots of time for reflection and analysis of reality, you know…
- You have probably heard how Lukashenka commented on your problems with health: "If not for that kid, and if the second one had not have pains in his back – and he couldn't even walk huddling up, could only crawl, but was running right after the release, – I would probably simply ignore their appeals…"
- Video surveillance was used at the medical unit of the colony. It is probable that Lukashenka was demonstrated how I was moving there. I had attacks of gout in the last month and a half. Those who faced such a problem, know that it is almost impossible to walk during such fits. He was probably demonstrated those filming and told in detail what was happening to me. I suppose that if it was not for aggravation demonstrated by the last MR-imaging made at Mahilyou regional hospital, I would not be released I think. They could have decided that I am a pretender…
Pardon
- Do you think that even a petition for pardon would be of no help?
- Frist of all, I had not written a petition, but a motion. And secondly, everyone learnt that Sannikov had submitted the same paper, only three months after. I was told from the start that it could take up to seven month to consider the documents for pardon. And then, I read in "Sovetskaya Belorussia" newspaper myself that Bandarenka has written everything in a wrong way, he had not repented, so it remains doubtful whether he is going to be released or not…
- Did you file a petition for pardon after Andrei Sannikov was forced to make that step, didn't you? And if he would not do that?
- I would not do that for some time as well. I am not the one who thinks that measures of psychological and physical coercion have no effect on a person. KGB investigators often repeated: "Mister Bandarenka, anyone can be crushed!" I know human anatomy, physiology a little, and I know from my own experience that measures of physical coercion on people could be often very effective. That is why I am saying: I was holding on as long as it was possible. But if there would be two weeks left for my release, and I would have learnt that Andrei had written a petition for pardon, I would write it too. Without a second thought!
I know that from the first days Sannikov's incarceration conditions were much worse than mine. And there was no information about him at all for the last three months. I imagined that he was in a critical situation. Undoubtedly, his move should have been supported. One of the reasons is that it was mostly me who had persuaded Andrei to come forward as a presidential candidate. He was weighing this decision for quite a long time. And while we are a team, we should stay a team behind the bars as well…
- And why such unbearable conditions were created for Sannikov?
- The answer is, they knew how many votes he really won in the election. To my mind, the second round was inevitable… At the same time, Sannikov was a leader in all internet polls, including the Russian ones. People were standing in queues to give a signature for his nomination as a president! And the authorities saw that…
- You have probably had a detailed conversation with Sannikov, and about your life in the colony as well…
- Yes, we discussed that. But one should understand that Sannikov was in such a cruel Asian captivity, and in order to be adapted to normal life, he will need a long period of rehabilitation, and probably even assistance of experts. Sannikov's words about people who wanted his death have substance behind…
- Zmitser, have measures of physical coercion been used against you, or was it just an unbearable moral pressure?
- I was not beaten, but there other methods, for instance, threats to one's family. The first months in the KGB remand prison were rather harsh, and Ales Mikhalevich and others told about that. I was offered to sign a document about cooperation with the KGB and be released and continue work even the next day. A special condition was to cede control over charter97.org website and stop censoring of comments.
- Can you explain why it is so important for special services?
- There are areas where open competition between state-run and independent mass media, and it is impossible at charter97.org. Special services want to be present at one of the largest independent web portals. The rating of the number of viewers of Charter website, where just a few journalists work, considerably exceeds ratings of state-run informational agencies and official newspapers, where dozens of journalists work!
Charter'97is ahead of independent news sources as well, and not all of them are ready for competition. But my opinion is the following: if the number of viewers of Radio Svaboda's website is 20 times less than Charter'97 has, one should give it a though…
- Immediately after you were released from the colony, you stated: "I will continue public activities. I want our country to be a free, European country." And Sannikov announced a temporarily moratorium on communication with journalists. Can you explain his behavior?
- I have not come through even one hundredth part of what Andrei has endured. We have common position: we are hostages, as well as our loved ones. And even in this interview I cannot be totally straightforward, as living humans stand behind each of my words. And people's fates are not to be trifled with. Each extra word may not just deteriorate my conditions, but the conditions of those who are still kept in colonies. It is an important factor, which is taken into account by us when we speak to journalists.
People should understand Andrei Sannikov, who had spent four months in a solitary confinement cell, and then was in a prison unit in complete isolation…
- Do you receive any threats now?
- I view Alyaksandr Lukashenka's words that we could be sent to the colony again, as a threat.
I can say that Sannikov received threats as well – on the phone, after he was released from the colony. So everything is much more difficult than it may seem on the surface…
We are at large, but in reality we are not free people. And we have serious concerns about our relatives, about the future of our friends. Undoubtedly, we do not want to find ourselves in a colony in the near future, that is why journalists should understand the situation we are in.
And the things Andrei and his family have come through are real hell. And it is not over yet… I wanted Sannikov to become a president. Belarusians would never be ashamed for such a president. But people were not ready for the idea that they should defend the leader…
- Recently words of Dmitry Medvedev who repeated Lukashenka's phrase word for word, made me squirm! On one of the last days of Medvedev's presidency he was asked why he had not pardoned Khodorkovsky. And he answered: I will consider it if he writes a petition, and he will continue to serve the term if not…
- It is such a geopolitical issue… Once a prominent American political analyst and intellectual leader Zbigniew Brzezinski said: in order to change the geopolitical situation in the post-Soviet space, the US should turn attention to three countries – Ukraine, Uzbekistan and Azerbaijan. And explained why. I think it was a big mistake of Brzezinski. His influence on the geopolitics of the US, on the strategy of the US in the sphere of foreign policy is huge, and if he would advised to turn attention to Belarus, it is not excluded that we would live in a different country now. In the times of Yeltsin some politicians in Belarus said: Russia faces a danger of Lukashenization. But they laughed at us. And now it is obvious for everyone: many know-how of Belarusian dictatorship are successfully used in Russia and even Ukraine! It is possible that if due attention had been paid to Belarus on time, Lukashenka would be different now as well…
Recently it seems to me that the EU has developed some more thought-out policy towards Belarus, as for many years there was no such policy at all. But there are no easy paths for solving the Belarusian problem. Efforts of the US and the neighboring countries, and the EU are needed there.
- And what can you say about a possible dialogue with the regime?
- I am in favour of direct dialogue between the regime and opposition. And the first question which should be solved is to hold free election under international control and according to international standards.
- The parliamentary election is coming. To your mind, is opposition to participate in it?
- One of the proposals done to me at the KGB remand prison, was: "You will participate in the parliamentary election, and we will support you." The same was offered to Uladzimir Kobets. That is why it is very interesting to me who will participate in the election out of the politicians who had come though the imprisonment in Amerikanka (KGB remand prison)…
Maryna Koktysh, "Narodnaya Volya"