Lukashenka scared of calls to remove ice hockey championship from Minsk
65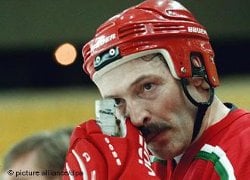 There are threats of bringing opposition members to criminal responsibility.
Andrei Bandarenka, the director of Platform organization, was summoned to Minsk prosecutor's office on the morning of June 2. He received a warning for discrediting of the Republic of Belarus.
A reason for the warning was Platform's appeal to the International Ice Hockey Federation (IIHF) calling not to hold the 2014 Ice Hockey World Championship in Belarus if all political prisoners are not released and crackdown on journalists, human rights and civil activists is not stopped.
The prosecutor's office regarded the appeal as "knowingly false information about political and social situation in the Republic of Belarus and legal state of Belarusian citizens thus discrediting the Republic of Belarus and the country's government".
Andrei Bandarenka explains to the Platform's website:
"Absurdity of the situation is that the country's authorities themselves discredit the Republic of Belarus, grossly violate civil rights and ignore the Constitution. Warnings are given to those who dare to point at these facts. People are being detained for their views, lawyers are being disbarred, blacklists are being made in the country. Police brutally beat citizens of the country; judicial system, deprived of independence, is fully controlled by the authorities, but we hear everything is all right in the country.
I am confident the appeal to the IIHF is only a pretext. The real cause is my international contacts and the fact I talk directly about events in the country. In particular, I have just returned from Geneva, where we discussed a necessity to institute a mandate of a special rapporteur. Representative of the authorities do not like it. They want to create an illusion of a law-bound state, but when they fail, they begin to eliminate those refuting their opinion. Ales Byalyatski is a vivid example.
It's not me who violates the Law, violates the Constitutions, falsifies elections, jails presidential candidates. It's not me who drove the country to international isolation, devalued the ruble, took $40b loans and sells state property. The state should think why no one believes in the picture it draws. Bandarenka can be thrown into prison, but it won't change the situation."