Human rights activists urge to write to Rene Fasel
6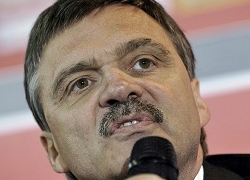 Human rights organizations insist on the transfer of the international ice hockey tournament in Minsk.
Join our postcard campaign and call for the removal of the 2014 Ice Hockey World Championship from Belarus to another country. If you want to spread and send away postcards, please write your address and the number of post cards you need to info@minsk2014.no We will send you the post cards for free. It is said in the statement which was published on the website minsk2014.no.
'To hold the 2014 IIHF World Championship in Belarus would support and legitimatise a regime which violates the human rights of the people of Belarus in an alarming way.
I urge you as president of the IIHF to support the victims of human rights violations by removing the 2014 IIHF World Championship from Belarus,' - said in the postcard.