Scandal at Belarus vs Slovenia game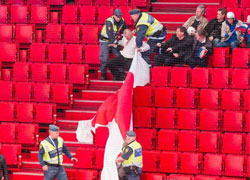 Security guards twisted arms and kicked Belarusian fans out of the arena for an attempt to unfurl a big national white-red-white flag.
Security guards didn't allow to raise a huge national flag at the Belarus-Slovenia game in Sweden referring to safety rules. Belarusians then made several placards and hung out small flags, Radio Svaboda reports.
According to Anatol Mikhnavets, the head of the organisation Belarusian National Memory, security guards were keeping an eye on Belarusian supporters during the match.
Seven minutes before the match end, activists raised the huge white-red-white flag, the same they had had at the game against the Czech Republic.
"Security guards or policemen ran up to them and began to twist our arms. They then kicked us out of the arena," Anatol Mikhnavets says."They didn't explain their actions. I don't know what officials from the Belarusian Ice Hockey Federation told them. I spoke to Vorsin and he called the white-read-white flag a dust cloth. I said I would meet with journalists and cite his words. He didn't  object. He didn't know that the Pahonia (Chase) coat of arms was on the Belarusian national heritage list."
Anatol Mikhnavets hopes the people guilty in the incident will be punished:
"We need to put a period to this matter once for all. This is a violation of human rights and Swedish laws."
Swedish journalist Isabel Sommerfeld wrote on her Facebook account the incident with a flag was discrimination of Belarusian fans and violation of the IIHF Statute (Article 8).
"Sweden deserves pity because the Swedish Ice Hockey Federation kneels before the dictator... What about human rights then?" the journalist wrote.
Yauheny Vorsin, the head of the Belarusian Ice Hockey Federation, said earlier that people with white-red-white flags were "inadequate", there were black people among them and they received money for that.
Swedish politicians and human rights activists plan to held a picket tomorrow to support Belarus's democratic community.
Photo PIC-AGENCY