David Smolansky: I'm sure that soon Belarus and Venezuela will be free
14
Andrei Sannikov
6.05.2019, 12:51

15,527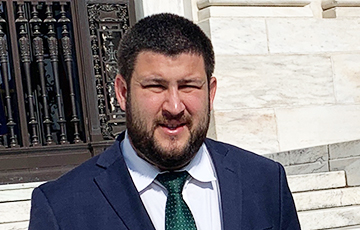 Venezuelan people are supported by democracies of the world and Maduro is supported by dictators.
David Smolansky is one of the youngest leaders of the Venezuelan opposition. In 2009 he became one of the co-founders of People's Will party (Voluntad Popular), headed by former mayor of Caracas Leopoldo Lopez.
In 2017 under the threat of arrest he had to flee the country. He managed to escaped to Brazil and later to the USA, where he is active in the opposition.
David invited me to the meeting of the permanent council of the Organization of American States where the role of external actors in Venezuela was discussed. At the meeting Lukashenka's regime was mentioned together with Russian, Cuban and Nicaraguan groups that support Maduro's regime.
After the meeting David commented on the current situation in Venezuela.
- Ministry of Foreign Affairs of Belarus recently made a statement condemning attempts of "unconstitutional seizure of power in Venezuela to oust legitimate president Maduro" and called on the opposition to enter a peaceful dialogue. I have to say that this statement comes from criminal group that illegally holds the power in Belarus and I want to convey a message from the people of Belarus who support your fight for freedom and wish you every success.
- Thank you for this message which is very important for us and I would like to respond to the Foreign Ministry of Belarus that the legitimate president of Venezuela is Juan Guaido according to our Constitution. He is recognized by the vast majority of Venezuelans and by 54 countries that support him as the head of state.
Right now Venezuela is a victim of dictatorship with organized crime: drugs, human trafficing and other kinds of criminal activities, so what affects Venezuelans in fact affects also the region. Maduro together with Chavez for 20 years were destroying my country creating humanitarian crisis, refugee crisis.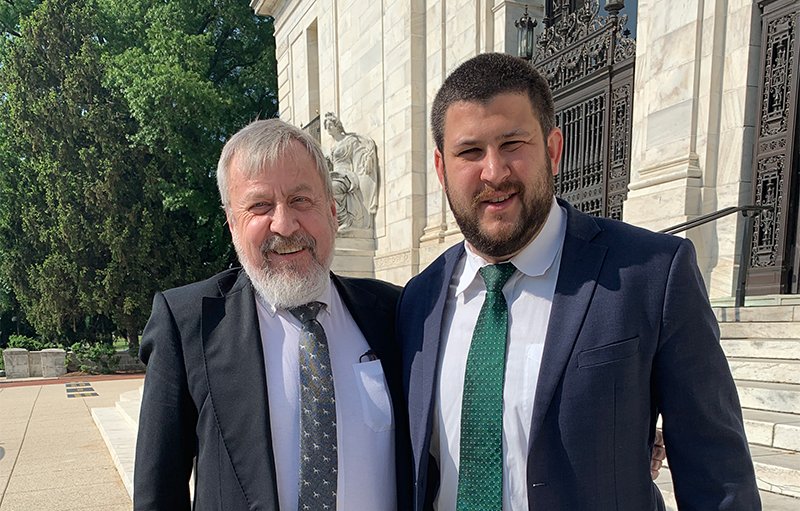 - It was an important decision of president Juan Guaido to call on the armed forces to help the people to oust Maduro. There were some positive responses from the military but frankly it was not enough and the attempt didn't lead to success. What's next?
- It is just the beginning of this movement. The only element that is needed to restore democracy in Venezuela and to formalize the transition of power is the armed forces and what we see now is progressive recognition of the government of Juan Guaido by the armed forces.
The majority of the armed forces suffer the same problems as all people in Venezuela: shortage of food, shortage of medicine, lack of electricity, lack of water, their families fleе the country. Maduro has protection of 2000 generals. It's crazy. The number of generals is more than the whole NATO. And those generals for years enjoyed many political and economic privileges. Those generals together with irregular paramilitary groups - what we call in Spanish "Colectivos armados", some of them coming from Colombia, then Cuban agents, intelligence agents, and now Russian troops are used by Maduro to protect himself. That's why he is still in his palace and de facto holds the power using arms and fear. But he is scared and weak.
- Do the armed forces use arms against people?
- Maduro is using the national guard and the police, those few who are with him, but also he uses irregular groups, civilians with arms. That is dangerous. We want armed forces to recognize president Guaido as their commander-in-chief and stop the activities of those criminals who attack soldiers as well.
- You had to flee the country because your life was threatened. What do you think of your role today? How can an opposition leader help the country being in exile?
- We can do a lot. I am coordinator of the working group at the Organization of American States on Venezuelan migrants and refugees. Since 2015, the beginning of the crisis, 3,8 million Venezuelans left the country because of the humanitarian catastrophe, crime, human rights violations, violence, lack of electricity, lack of water. And in general there are more than 5 million Venezuelans in diaspora. Obviously diaspora plays a huge role in helping to restore the democracy in Venezuela.
For example, when the opposition calls for protests in Venezuela we organize protests in many cities abroad. Than we do advocacy to help democracy in Venezuela. I'm in exile for almost two years and I work very hard here in Washington with the US government, with authorities in the region, in Europe to explain the situation in Venezuela asking to increase the pressure on the illegal Maduro government.
- Did you know in advance about the decision of president Trump to recognize Juan Guaido as legitimate president? Were you consulted about that?
- We knew of course that as soon as the interim president Guaido assumes his position we will get the recognition, and not only from the US government. And what happened in January when Juan Guaido declaring himself president was no improvisation, we were working on this for months.
- You know Juan Guaido personally, what kind of person and what kind of leader is he?
- Young, very energetic with a lot of determination, brave, courageous. He is very promising emerging leader who has been able to unite political actors in Venezuela for the cause of restoration of democracy and freedom. And he is supported by the overwhelming majority of the people.
- Besides the military who else is supporting Maduro?
- We have Cuban agents, a lot of them, more than 40 000, who work on prosecution, tortures. We have Russian troops and planes in Venezuela. Also such regimes as the one in Belarus, or Turkey, Iran, Syria – they are the allies of Maduro. Venezuelan people are supported by democracies of the world and Maduro is supported by dictators.
- Thank you David. Please send support from the people of Belarus to the people of Venezuela and wish them victory in their fight for freedom.
- Thank you. I'm sure that soon our countries, Belarus and Venezuela will be free.
Andrei Sannikov, coordinator of the civil campaign "European Belarus", especially for Charter97.org