"DJ of Changes": In the Punishment Cell I Was Beaten by the Deputy Interior Minister Barsukou
89
17.08.2020, 13:45

151,735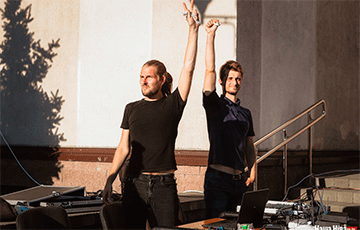 Barsukou came to the punishment cell of Ulad Sokolouski on the third day of his detention.
Ulad Sokolouski, one of the DJs who played the song "Peremen" at the official rally on August 6, for which he received 10 days of arrest on Akrescin Street, told nn.by that he was beaten in the punishment cell by Deputy Minister of Internal Affairs Aliaksandr Barsukou.
According to Sokolouski, on the third day of his detention, "some boss" came to him.
"They shouted to me: face to the wall! The boss says: "Did you turn on the music? Did you want to change? So many people took to the streets, so much blood and because of you! Well, get ready, you will spend 10 years in prison. "He hit me twice and left. As he left, he said: "Why is he here, as in a sanatorium? Do it right. "After that, they stopped reclining the bed stopped; cold air was blowing. It was freezing," he said.
After his release, Ulad Sokolouski recognized this as the chief of Aliaksandr Barsukou, Karaev's deputy. Barsukou came to Akrescin Street on the night of August 14, assuring people that no one was beaten or tortured in the cells.