"And I Tell the Policemen: We Will Not Leave, and You Will Take off the Shoulder Straps"
12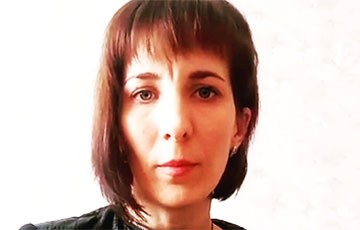 The story of a brave resident of the city, in which AMAP officers have folded their shields.
"The children have a list of numbers to call if I don't come home."
A mother of many children from Kobryn Maryna Zhuk told Salidarnasts how she decided to protest, and why she is not afraid of reprisals and not going to leave.
Kobryn is the fourth largest city in the Brest region. On August 9, it was here that AMAP officers lowered their shields. However, the next day, the situation changed and the security forces began to vigorously disperse people expressing indignation and disagreement with the results of the presidential elections.
On August 10, Maryna Zhuk's ex-husband was detained (the family broke up a year and a half ago but has good relations). The whole night, together with the children, she was looking for the ex-spouse and waited for news from the ROVD. And when taking the beaten man after a day in prison, the Kobryn resident understood: she would not be silent.
- Until last year, I did not have any particularly active position. I worked as a product display agent, traveled to cities, and only heard that the registration of presidential candidates was taking place, that they put Viktar Babaryka, Siarhei Tsikhanouski... But all this did not get too much into my head – the work was overwhelming, I just wanted to drive home and see the children.
However, I deliberately went and voted - to be honest, for the second time in my life. I did it for the first time at the age of 18, but it didn't stick in my memory, and then I never went to the polls because it seemed that everything had already been decided for you. One to one, it immediately accumulated: how much longer is it going to be?
My parents and I moved to Belarus in 1995 from Kazakhstan, and it turns out that I came - he (Lukashenka - S.) was here, I had three children - all this time, he was here, my eldest daughter will already soon go to study, live independently, get married - and he is all here. Maybe enough is finally enough?
And when I, like many Belarusians, saw what was happening on August 9 at the polling stations, when I spoke in the square and asked to release the detainees, and when I took my ex-husband from Ivatsevichy (the detainees from Kobryn were transferred there) and with my own eyes, not in photographs, I saw the "blue paint," traces of beatings - I realized that it was just messed up, it was the last straw.
After a while, the security officials really want to pretend that this did not happen and convince everyone that out of almost 52.5 thousand residents of the city, one and a half percent came out to protests. The system works - fines, days of detention, "preventive conversations." And the townspeople continue to express a "partisan protest" - if not a chain of solidarity, then a dance challenge, if not ribbons on the bridge near Mukhavets, then a gigantic fiery "Pahonia"...
- I went to some of the protests on foot, to some I came by car - so the first fine and three subsequent ones were written to me for technical inspection, - Maryna recalls. - We have one major, so with his assistance, sometimes I was just chased by a traffic police car to write out a fine.
On October 13, a protocol was drawn up against Maryna under Article 23.34 of the Administrative Code - for participating in Sunday marches. Although, in fact, the mother of many children was detained not for participation, but for "balloons of the wrong color" in the hands of her children:
- "Why did you have exactly white and red balls?" the judge asked. I replied that the children chose these colors - and received a penalty of 10 base units.
The fine did not frighten the Kobryn resident, and she continued to express her position. Already at work, they reacted to one such statement (more precisely, the publication in the chat "Kobryn for life" addressed to the police, like, remember that nothing goes without a trace, everything will return like a boomerang)
- The director personally called and asked: "What, you have nothing to do?" And then more and more clearly began to hint at dismissal. When the OBEP also joined, they began to invite me for a conversation, I realized that it would be better to leave on my own, - Maryna tells Salidarnasts how a commodity specialist suddenly became unemployed. - Then in our city, they stopped going out on Sunday marches and walking with paraphernalia but began to do "partisan" actions - they hung ribbons, launched white-red-white paper boats, recorded various creative videos...
In November, some of our guys were simply taken from home - supposedly for a preventive conversation, but in fact, they were detained for 72 hours. And then I was summoned to the ROVD, where I was kept from 9.40 in the morning until almost 6 in the evening. The conversation proceeded in the manner of persuasion, they told me not to go to the rallies.
An interesting phrase was said: "Why don't you work for the common good." I replied that I have different principles, and I will not "rat out" or report on what is happening - this is not my case at all.
In addition, they said that if any video with appeals or unregistered symbols appears somewhere, they will first think of me, they will summon me, and then they will imprison me. Although I am raising three minor children on my own, and according to the law, in principle, they do not have the right to send me for a day, but we are all aware of how the laws "work" in Belarus now.
...Two tens of active townspeople, Maryna Zhuk says, continue to walk on Sundays. Without any paraphernalia, they just go to the center Kobryn, where sooner or later, according to a peculiar tradition, there is a paddy wagon or a police "gazelle."
- Last Sunday they came again and wrote out the regular summons; supposedly, we should act as witnesses; however, it is not clear in what case. I think the goal is to "remove" us from the stele so that we can get out of sight - into the woods or the outskirts, - the woman laughs. - And I say that we will not leave. Our Major Vaitovich has a little time left until his retirement, and when he has two days left to work, we will gather with all the townspeople who, on his initiative, were drawn up protocols, issued fines, or imprisoned for "a day" - we will get together and have a celebration. He, of course, did not like this idea very much.
I'm not afraid of them. Even when I went to a "preventive conversation," after which many people were detained, and realized that I might not return home, I was not afraid. The children have, just in case, a list of numbers to call if I don't come home in the evening; friends will come, and the children will be brought to school and kindergarten.
Oddly enough, notes the Kobryn resident, they did not try to press on her through the children (the eldest daughter will be 15 in the spring, the younger sons are 6 and 4 years old - Salidarnasts.). Perhaps because Maryna called the class teachers of both of her students and warned: at the slightest attempt of manipulation, she would take the children out of the school and transfer them to distance learning.
- We were also very much supported by the By_help fund, which helped to pay a fine of 10 basic. Rather, our guys borrowed at first money for payment, since by that time, I was already unemployed and did not want to get a penalty, and then this amount was compensated from the fund.
In addition, for almost four months, every two weeks, my children and I received food - this may seem like a trifle to someone, but in fact, it is a huge help because today it is very difficult to find a job in Kobryn, probably, only cleaning women and sellers are needed. And now, for the period while I am unemployed, the support does not stop.
Many, when they find out that I have three children, are surprised at how I decided to go out to protests and what I've been thinking. You know, I never regretted what I was doing and did not think about giving up everything, forgetting, and living as I lived or quietly taking a wait-and-see attitude.
During the protests in Kobryn, I met and made friends with many wonderful people; we are very united. I know that I can count on them - they will help (they have already helped) to screw in a light bulb and hang cabinets in the kitchen. I see this solidarity, support for each other in big and small, and this also helps not to be afraid.
During the last "conversation," Maryna notes, she was openly advised to leave Kobryn and even leave Belarus.
- Why should I leave ?! If I wanted to, I would have "left" long ago - there are relatives in Russia, in Ukraine, in Germany. But why should I leave my country, where is my home, where my children were born and are growing up, where there is hope to achieve a normal, decent standard of living for all citizens?
Therefore, in response, I suggested to the militiamen: "Perhaps you will take off the shoulder straps, and it will become easier for us to live?" I hope that the people were not intimidated neither with threats nor with days of arrest and that people will come out again in the spring, supporting each other. In any case, a drop cuts through rock.