Ukrainians Hit Russian Admiral Essen Frigate Near Snake Island
15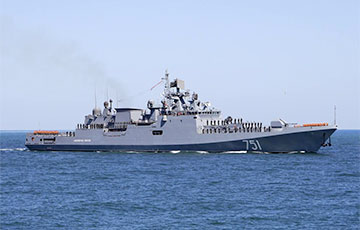 The General Staff confirmed the successful hit on the warship.
The Armed Forces of Ukraine inflicted crushing losses to the Russians during the operation to liberate Snake Island. In particular, they damaged the Admiral Essen frigate.
The General Staff of the Armed Forces of Ukraine said that the operation lasted more than two months. During the operation, the defenders detected the tactics of the occupiers, investigated the situation on the island and used a variety of weapons, while creating ever more successful and often unconventional strategies.
The General Staff said that groups of heterogeneous forces of the Navy, the Bayraktarov squadron, the Air Force of the Armed Forces of Ukraine, missile troops and artillery, units of the State Border Service, the Security Service of Ukraine and intelligence, as well as other units from the operational-strategic group Oleksandria participated in the operation on Snake Island.
It was carried out in several stages. The defenders cut off the logistical support, hitting the ship-boat warehouse, support vessels and military equipment, with which the Russians tried to equip the military post. With the help of the Bayraktar UAVs, other Western armed supplied war machinery and domestic technologies, they hit:
4 fast patrol boats, Raptor type,
high-speed landing craft on the air cavern, Serna type,
the Admiral Essen frigate significant damaged,
a new modern tugboat Rescuer Vasily Bekh killed.
People's Deputy Oleksiy Honcharenko noted that he reported the defeat of the Russian frigate Admiral Essen back in April, but this information was confirmed only after about 3 months.
"This ship has shelled Odesa more than once and launched missiles into the whole territory of Ukraine. According to my information, the Admiral Essen was attacked by our Neptunes. The warship was damaged, but so far it has not been possible to send it on vacation to the Moskva cruiser," the people's deputy added.
The enemy frigate has been repaired and is now back at sea. However, Honcharenko is sure that the ship will not be on duty for long, so we should hope and believe in the Armed Forces of Ukraine.