Ukrainian Defenders Downed Chekan Kamikaze Drone Made In Belarus
10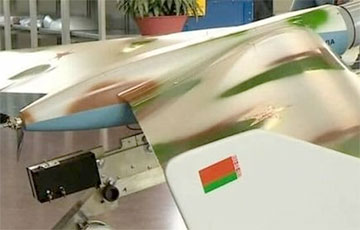 The UAV was flying south.
The defenders of Ukraine shot down an enemy kamikaze drone Chekan made in Belarus in the southern direction. Such a single-use drone flies under the operator's control and can drop 3 kg of explosives on the target.
This is according to information on the Facebook page of the BLITZ Aircraft Unmanned company.
The Chakan is a tactical UAV barrage ammunition for single use, flying along a given route external control function. It sends data and video images to the operator during the flight. An operator can control the search for targets and give orders to destroy. If there are no targets, the Chekan self-destructs.
The combat loading of the device is up to 3 kg, the radius of combat use is up to 25 km, and the flight time is up to 1 hour.
The Chekan flies at an altitude of 400-800 metres at a speed of 70-100 km/h. It makes noise while flying and has the characteristic swept flying wing shape. Before an attack, it switches off an engine and dives to a target. It has a rather poor targeting about 15m inaccuracy and 5m in the control mode," the message reads.
Such drones can be destroyed by small arms barrage fire. The Chekan has a self-destruction timer, so it is restricted to approach a drone when it has fallen.