Russian Officers Target Missiles At Black Sea Fleet Headquarters In Sevastopol For Money
27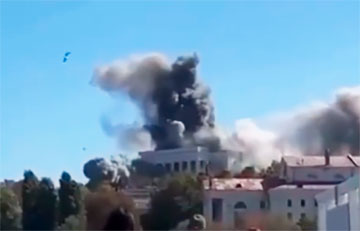 The details of eliminating the commander of the fleet and 34 officers.
Naval officers of the aggressor country Russia "leaked" to Ukraine information about the whereabouts and activities of their commanders in exchange for monetary rewards, the Kyiv Post reports with reference to the partisan movement of Ukrainians and Crimean Tatars "Atesh".
The journalists' interlocutor said that delayed salary payments from the aggressor country alone do not make the Russian occupiers go against the Kremlin regime, and that those who help them also believe that Russia is waging a criminal war that must be stopped.
"However, the material reward helps them decide to co-operate with the Atesh movement, it serves as an additional motivator," he added.
The movement did not specify how much money the informers among the occupiers received, but said it was enough to "cover the risks" for the officers and their families. The partisans said they were talking about Russian officers who had access to "the general activities of the [Black Sea Fleet] command."
"We are in touch with various representatives of specialised bodies [particularly the SSU and Main Intelligence Directorate] and they all equally receive the necessary information that we can give them," the Atesh spokesman said."