Ministry of Health: swine flu situation turned out to be unexpected
86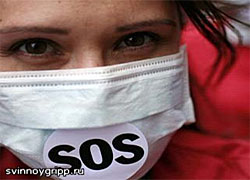 About 1.5 million ARVI and flu cases have been detected in Belarus, first deputy health minister of Belarus Robert Chasnoits told to the "national assembly".
"We try to monitor 18 control towns in Belarus; the incidence rate is more than 1.5 million of people. Most cases are virus infections. The cases of flu, including the so called A(H1N1) swine flu, amount to 2.6%," Interfax news agency quotes Chasnoits.
He said "the situation with swine flu turned out to be unexpected; a tender for purchasing vaccine for certain flu strains by Belarus". "The vaccine will be delivered to Belarus in the second half of December," the first deputy head of the Belarusian health minister said.
He also referred to absence of concrete tools and opportunities to monitor the situation with virus diseases in Belarus.
Head of the "council of the republic" Barys Batura objected: "We began to deal with the situation when the society was already indignant." "You have let this matter slip away and you should admit this," Batura said.
"Why did the flu epidemic begin so suddenly? The whole world has known about the epidemic. It's not a water pipe burst, when an emergency tam is needed. You could have issued a tender earlier. You failed, you must admit this. Why are you telling us you are helpless?" Batura asked Chasnoits.
Chasnoits replied he had nothing to say in excuse.
The first deputy head of the Ministry of Health told journalists: "It is not a matter of principle how many swine flu diseases have been detected in Belarus, the main thing is that the situation is under control of the Health Ministry. "The main thing is that the mortality rate is not higher than it was last year," Chasnoits said.
He added that no cases of atypical pneumonia have been recorded in Belarus; drugstores have more that 107,000 packs of Tamiflu.
The first deputy heath minister emphasized that the number of virus infection cases was expected to grow in the second half of December.