Lukashenka has created secret service for Internet
110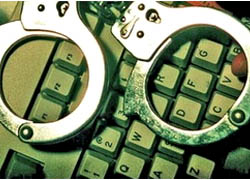 The Operating and Analytical centre under the president is given a right to control online correspondence of Belarusians and monitor which websites they browse.
On January 4 Alyaksandr Lukashenka signed the law "On amending some laws of Belarus to clamp down on criminal activity".
Thus since yesterday the Operating and Analytical centre under the president is invested with authority to carry out operational-investigative activities at the territory of Belarus. In other words, the Centre has a right among other things to control online correspondence of Belarusians and monitor browsing of websites by Belarusian internet users, Electroname.com informs.
We remind that the OAC is a governmental agency with regulates activities on protection of information containing data with state secrets of Belarus or other information protected user the law from leaks through technical channels, from unsanctioned and unintentional influence. Besides, the OAC is the administrator of BY domain.
The state budget will give 12,540,583.0 thousand Br for finencing the activities of the Centre in 2010.
Recently the OAC attracted attention due to the draft law on regulating ByNet which was received by the press. According to experts, the draft decree had been prepared in the OAC and planned to authorize the structure to allocate the international channel of access to in Internet and exercise control over the entire Belarusian segment of the Web.
The scandalous document includes blocking of websites on the decision of governmental agencies, identification of Internet users, state registration of online media, as well as bringing to responsibility those who distribute information on the web.
According to the first version of the document, hosting of Belarusian web resources would be transferred to Belarus, and in order to browse the web even in dial-up mode, Belarusians would have to go to a provider with a passport.
"Reporters without Borders" has made a statement of protest expressing concern over the plans of the Belarusian government to tighten control over the Internet.
The decree should be abandoned so that Belarus is not added to the list of countries such as North Korea, China and Iran that Reporters Without Borders has identified as Enemies of the Internet, the statement says.