Lukashenka to Medvedev: "We were together in trenches against Nazis!"
157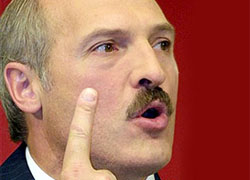 Arguments by the Belarusian ruler are surprising as usual: how can we owe to Russia, if we fought together in 1941?
Alyaksandr Lukashenka called today to show the Russian leadership a Belarusian-Russian film about the Brest Fortress to remind about the unity of the two peoples, Interfax news agency reports.
"The film has made a storm of impressions of current interest. I would like this film be watched by the Russian leadership as soon as possible. It is a live theme for them," Lukashenka told Igor Ugolnikov, the head of the "union state" TV and radio company, after a pre-premiere screening of joint Belarusian-Russian movie Brest Fortress.
"I often hear the word 'pragmatism' in the talks with my colleagues in Moscow. They say it is necessary to change our relations, make them more pragmatic. This is a vogue word in Moscow now," the Belarusian ruler noted.
"I'd like them (the Russian leadership) to watch the film, remember that we were together in trenches, we fought against them (the German occupants – Interfax)." Lukashenka stressed. He also noted that he didn't call to revanchism in diplomacy and economy. Lukashenka added that such things were necessary because "we need to remember today that relations between states and peoples are not measured by cubic meters of gas and tons of oil". "We need to remember what we had defended and created together," the Belarusian ruler emphasized.
We remind that Belarus' indebtedness to Gazprom is about $200 million according to accounts for gas this year.
On June 15, Russian President Dmitry Medvedev said during the meeting with Gazprom CEO. Alexei Miller: "Since we interact with Belarus as partners, let's give our colleagues a five-day period to decide how to conduct themselves."
"If this is not done, we will have to take strict measures," underlined Russian president.