Newsweek: "Moscow pulls Lukashenka's moustache"
43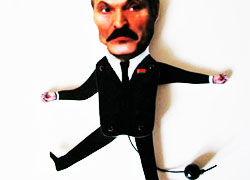 The struggle against the Belarusian dictator is not limited to verbal invectives. Moscow presses from all sides.
As "Russian Newsweek" writes, Moscow has joined the election campaign in Belarus. The date of the presidential elections is not scheduled still, but both Moscow and Minsk are getting ready for them seriously. Last Friday Lukashenka visited Moscow to meet with Dmitry Medvedev and Vladimir Putin. Meanwhile, Russian ambassador in Minsk Alexander Surikov gave a detailed press-conference. First he threatened that in case Lukashenka won't agree to sign or ratify the Customs Code, Russia and Kazakhstan would form a common customs border "with all the consequences that come with it". That is, customs posts would be constructed at the border with Belarus, thus destroying the bilateral customs union which exists since 2004. Then the ambassador charged Belarus with wrecking gas agreements. And finally started to praise the Belarusian opposition, saying that if he were Lukashenka, he would "hug and caress" activists of "Say the truth!" movement.
"By such statements, Lukashenka's moustache is pulled," told "Newsweek" a source close to the Kremlin. "Moscow likes to flirt with the Belarusian opposition, and he is always infuriated by that". But the struggle against Lukashenka is not limited to verbal attacks. Moscow attacks from all sides, and primarily during the talks on creation of the Customs Union. Last autumn, singing the agreement on joining the Customs union with Russia and Kazakhstan, Lukashenka believed that it guarantees him benefits and funds which would be enough to carry out the election campaign. But so far everything is going on in the opposite way. Russia refuses to finance the imminent election campaign of Lukashenka and provokes him for new scandals.
The Kremlin is certainly under no illusions that it would be possible to remove Lukashenka from power. The source of "Newsweek" thinks that an ideal scenario would be "Shaimiyev's scenario", for him to agree to step aside himself, and appoint a successor. However Lukashenka would not agree even to discuss such an offer. Understanding that his victory in the new election is inevitable, Moscow would not deny to take pleasure in supporting the Belarusian opposition, simply to annoy him.
One more new method of the Kremlin's work is honest covering of the situation in the neighboring republics on the Russian TV. This technique has already been practiced for Kyrgyzstan: a series of revelatory reports about the family of Kurmanbek Bakiyev on the Russian TV took effect. In a matter of days spontaneous anti-governmental riots started all over the country, and officials who grasped the signal from Moscow, did not show resistance. "They often simply gave keys from administrative buildings to the insurgents and went home: it was clear to everyone that Moscow would not want to rescue Bakiyev," a high-ranking Kyrgyz official recalls.
This effect cannot be achieved with Belarus, but Moscow will certainly give the floor to the Belarusian opposition. This is a good leverage.
Financial problems grow in Belarus, so Lukashenka become more nervous. Directors of enterprises have to work to the detriment of themselves in order to implement the salary plan, politologist Zaika tells. About 70% of salaries are paid from bank loans. This bubble can burst sooner or later, but Lukashenka doesn't care about this, Zaika says: "Who knows where he will be at that moment. Maybe at a ranch somewhere in Venezuela?"