"Godbatka 2": New film full version (Video)
189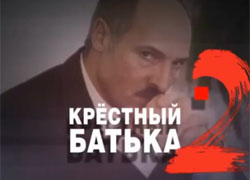 NTV TV channel showed today the second part of the movie exposing Lukashenka.
This documentary, as the previous one, wasn't showed in Belarus.
The movie again focus on the missing politicians, tells about total control over society by the Belarusian authorities, shows in details how the NTV crew was arrested and night integrated in a deserted house outside Minsk.
The movie also covers the scandalous holidays Lukashenka and his delegation had in Austria that was paid by a casino network, huge grants from Russia during Belarusian dictator's years-long rule, Lukashenka's friendship with Kurmanbek Bakiyev and Boris Berezovsky. An officer of the belarusian KGB says in an interview Lukashenka wants to be elected for life, but it is impossible, because Belarus lies in the center of Europe and the State Security Committee (KGB) understands this.
The film ended with the words: "Hitler had high rating until the time came, but everyone remembers what the end was."
NTV first film "Godbatka" came like a bombshell. It told the truth about political disappearances and killings of oppositionists in Belarus.
THE MOVIE IS AVAILABLE FOR DOWNLOAD HERE