Presidential election in Belarus to take place on December 19
265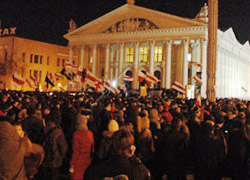 Today the "chamber of representatives" has set the date of the presidential election in the country.
As charter97.org website wrote, the presidential election will take place on December 19. All present 108 deputies unanimously voted for this date.
It is noteworthy how the debate on the date of the election in the "chamber of representatives" was taking place. As charter97.org has found out, a "MP" Anatoly Hlaz offered to hold the election on February 6, but his proposal was not supported by anyone. And a "deputy" Uladzimir Zdanovich immediately started agitating for Alyaksandr Lukashenka. He offered all "deputies" to tell at the local level how good the life is under the current regime. He finished his speech with the words: "What for do we need somebody else?"
According to the Constitution, the presidential election is set by the "chamber of representatives" earlier than 2 months before the expiry of the term of the current president. The presidential term of Lukashenka finishes on April 6, 2011.