Hysterics continues: Mass arrests in Minsk again (Photo, video)
416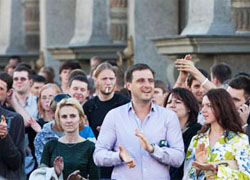 As usually on Wednesdays, de facto martial law was imposed in Minsk on July 20.
We remind that the group "Revolution through social networks" called upon people to gather on October Square in the centre of Minsk at 7 p.m. As before, people planned simply to clap their hands in protest against the policy of the authorities.
An hour before the rally there were policemen in uniform and in mufti in larger quantities near October Square. They had megaphones, walkie talkies, video cameras and even gas spray containers. Some traffic lanes of Independence Avenue were blocked in order to diminish the traffic flow. At the previous rallies passing cars supported protesters by honks.
Buses with riot policemen were also standing in all yards near October Square. Journalists were warned that they should stay "in a safe place" during the rally. They were ordered to go 30 metres away from the square in the direction of Engels Street. In fact this means a ban to film the rally and actions of policemen.
Meanwhile, groups of young people were gathering near the |State Department Store. People were standing near McDonalds and the Central supermarket. Police cameramen were shooting them.
When people started to come to October Square, riot policemen in black attacked them at once and started to drive them away. Riot policemen formed a line and pushed the protesters away. People were applauding.
Even the stairs of the Palace of Republic were "mopped up". Young people sitting there were made to leave the square.
Arrests started nearby, near the Europe hotel. People were packed into buses and driven away.
"Prohibition to practice" for journalists is still in force. When they interviewed one of the participants of the protest on the square policemen came up to them immediately. Deputy Chief of Minsk police Ihar Yauseeu (Igor Evseev) started to shout that journalists must stop the interview. Yauseeu also ordered journalists to go 100 metres away, otherwise it would be considered as unsanctioned rally.
On the way to the State Department Store in front of the turning people in mufti blocked the way to the participants of the rally, mostly young people who were applauding. Participants of the protest chanted: "We want changes!" A bus without number plates arrived at once. About 10 persons were seized.
Arrests near "Peramoha" ("Pobeda") cinema are reported.
During the arrests women standing by started clapping to show their support. Riot policemen rushed at the women. As a result, the mother of Mikita Likhavid, a political prisoner, Alena Likhavid, was detained.
Riot policemen in mufti even demanded to stop the prayer service for political prisoners held in front of the Red Church on Independence Square then.