Martial law doesn't stop protests in Minsk
304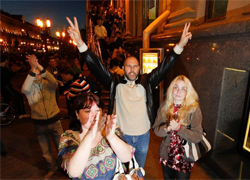 Interior forces units were drawn to Minsk on 21 September right before the silent protest action.
Numerous policemen in civilian clothes were to be seen all the way from Niezalezhnastsi Square to Kastrychnitskaya Square.
Most of the policemen and special police units were gathered close to the supposed location of the protest action on Nezalezhnastsi Avenue. Police and KGB people holding video cameras were standing 10-20 meters from each other. Special police units' buses with no number plates were parked in the courtyards along the Avenue.
Meanwhile it is getting harder to access the independent online resources, charte97.org, Radio Svaboda, Belaruski Partyzan, Euroradio, from Belarusian computers.
Despite all these efforts, the number of people on that side of the street where the KGB and GUM buildings are located, was significantly higher than that on the opposite side. In the very beginning, when the people started to clap their hands, they were approached and threatened by the police.
Nevertheless the police gave up when most of the people were applauding. Hundreds of people were standing on the both sides of Nezalezhnastsi Avenue close to McDonald's. Those standing on the porch of the restaurant started to clap their hands. The cars driving by showed their support by blowing horns.
By 19:45 there were more than a hundred of people who were applauding. They moved from Nezalezhnastsi Avenue to Lenin Street. The applauds and the slogan "We want changes!" did not cease for 10 minutes.
After 20:00 the protest action was over. Despite proactive arrests of opposition members in Minsk and other Belarusian cities before the action, there are no reports of arrests that evening.
On 21 September the participants of silent protest actions planned to gather on the right side of Nezalezhnastsi Avenue, between Minsk Hotel and Kaztrychnitskaya Square (the side where the GUM department store and McDonald's are located) in Minsk.
Unlike the recent summer protests of a more spontaneous nature, on 20 September the organizers of the action presented 9 demands to the authorities. The demands include economic, political and cultural issues. The common slogan of the action of 21 September should be "We've had enough! – enough inflation, devaluation, police tyranny, state propaganda and government's promises".