UN Special Rapporteur informed about torture in Belarus
18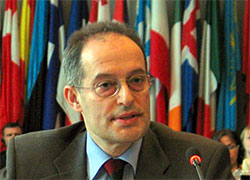 The United Nations Special Rapporteur on the situation of human rights in Belarus, Miklós Haraszti, met with editor-in-chief of charter97.org Natallia Radzina.
The meeting took place in Vienna and lasted for 1.5 hours. The UN Special Rapporteur was interested in all details of harassment of charter97.org journalists, in particular the death of website founder Aleh Byabenin, the arrest of Natallia Radzina, conditions in the KGB jail, torture, pressure and blackmail of political prisoners involved in the December 19 case. These facts will be included in Miklós Haraszti's first report on the situation in Belarus, which will be heard by the UN Human Rights Council.
The special rapporteur is banned from entering Belarus.
"Miklós Haraszti was informed about confinement conditions and torture of political prisoners in Belarusian prisons. Torture became routine in Belarus due to inactivity of the international community. 12 political prisoners are still jails in terrible conditions. We don't have all information about pressure on Mikalai Statkevich, Zmitser Dashkevich, Ales Byalyatski and other prisoners of conscience. But even the little information available can shock.  
I emphasised that the pressure on them has increased recently. Neither the European Union, nor the United States and international institutions take decisive steps to stop torturing political prisoners. The torture in the Guantanamo Bay camp and Georgian prisons was widely covered by the international media, but they don't report about the situation in Belarusian jails, which is more outrageous.
Miklós Haraszti has a clear understanding of the current situation in Belarus. He went through prisons of socialist Hungary in the 1970s, held long hunger strikes and was on the verge of death. He understands immediately what is going on in Belarus," Natallia Radzina said.