EHU fires Pavel Tereshkovich
7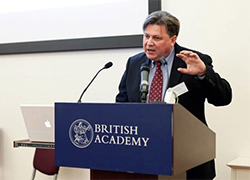 Rector of European Humanities University Anatoli Mikhailov refused to prolong an employment agreement with Pavel Tereshkovich, the chairman of EHU's Senate.
Prof. Pavel Tereshkovich applied to the rector's office for prolonging the employment agreement, because he needed to extend his residence permit in Lithuania.
But rector Anatoli Mikhailov rejected the application.
"It means I can work until September (my employment agreement is valid until September)," Pavel Tereshkovich said to Radio Svaboda. "But I won't be able to do it from April 23, when my residence permit expires."
A representative of EHU's communication department said they didn't comment on personal affairs of the academic staff.
We remind that the platform "For New EHU" was created at Vilnius-based European Humanities University. Pavel Tereshkovich is among initiators of the platform.
"The reason for the consolidation of the academic community is a deep internal crisis of the 'university in exile'. The aggravation is indicated by the growing adherence to the authoritarian managerial style, including the opaque personnel and financial policy, demonstrated by the EHU management that poses a threat to the existence of the university as a democratic educational project for Belarus," says the statement by the initiators of EHU's new platform.
"EHU today is almost a university of migrant workers," Tereshkovich said earlier. According to him, most lecturers don't have employment agreements and social protection. "They can't take paid sick leaves and maternity leaves, their work for EHU is not counted as time of service."