Victor Hvozd: Protest volcano will bury Yanukovych under ash
3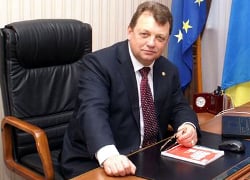 The further escalation of violence reduces chances of staying unpunished for the Ukrainian authorities.
Head of the analytical centre Borysfen Intel Victor Hvozd discussed the events in Ukraine with charter97.org.
"The people's volcano began to erupt. The current authorities, the Soviet past that has deep roots in all of us, Russia's hopes for the restoration of the killing empire and the current KGB-oligarch reserve from the Don River to the Pacific Ocean will be buried under volcanic ash. The goal of the current regime [of Russia] is to expand its borders by creating its bandit-oligarch clone in Ukraine and to terrify Europe and the entire world. Their plans were thwarted by the people of Ukraine. My heart bleeds when I see cold-blooded snipers shooting unprotected protesters. The death toll has risen to scores. The authorities are lying. If the Interior Ministry claims it doesn't use snipers, why do we see them? Ruslana demonstrated a Russian chevron torn off a Berkut officer's uniform," he said.
"The authorities use Goebbels-style methods to shift responsibility onto the opposition," the expert added.
"The are spreading false and fabricated information through the media, which they control, pro-government MPs and agents to represent us as terrorists, conspirators and agents of security bodies of all countries of the world. The Interior Ministry and the Security Service of Ukraine publicly took a position of the anti-Ukrainian occupational force. The army is demoralised. General Zamana, the chief of the General Staff of the Ukrainian Armed Forces, was removed from his office yesterday. The post was given to former commander-in-chief of the Ukrainian Naval Forces consisting of three ships. He has neither enough experience to manage such a structure as the Armed Forces, nor respect among army officers. But he is ready to sign any decree prepared by Yanukovych's administration," the analysts says.
The politologist is confident the situation went out of control of the current authorities.
"The further escalation will only reduce their chances of staying unpunished for the events. Western Ukraine and some central regions obtained full control over the executive and law-enforcement bodies. Officials of different levels are quiting the Party of Regions in droves. Members of the Verkhovna Rada are to gather for an emergency meeting to make decisions. The West seems to wake up. It's important, but it's not the principal thing. It's we who have to take decisions in Ukraine," Victor Hvozd said.
We remind that violent clashes between the police and protests continue in Kyiv. Scores of people were killed, hundreds were injured. The clashes resumed at 9 in the morning, after snipers from the Hotel Ukraine opened fire on police officers and then on protesters.