Putin and Nazarbayev to visit Minsk
33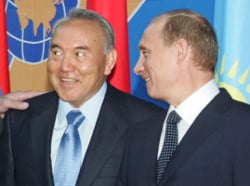 A meeting of the heads of Belarus, Russia and Kazakhstan will be held in Minsk on April 29.
It was said today by Belarusian prime minister Mikhail Miasnikovich at the meeting with Russian PM Dmitry Medvedev, BelTA reports.
According to Miasnikovich, the work on the draft Treaty on the Eurasian Economic Union is in final stage, but some issues within the competence of the governments and the heads of state remain unsettled.
The presidents of Russia, Kazakhstan and Belarus are expected meet in May and sign the treaty to establish the Eurasian Economic Union in 2015, which will be a response to the EU. Kyrgyzstan, Armenia and Tajikistan may join the new financial and economic organisation. The union will have the common currency – the altyn.