Valeriy Heletey: Russia threatens Ukraine with nuclear weapons
19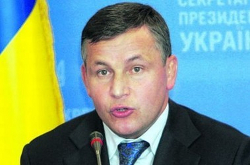 The Russian leadership threatens Ukraine to use tactical nuclear weapons.
The statement was made by Ukrainian minister of defence Valeriy Heletey, Ukrainskiye Novosti reports.
"I emphasise that Russia has threatened us to use tactical nuclear weapons," he said.
Heletey noted that Ukraine would hope for weapons supplies from NATO members, first of all the US and the UK. If military assistance is not provided, Ukraine will have to return to the development of nuclear weapons, according to the defence minister.
Valeriy Heletey said on September 14 that NATO members started arms deliveries to Ukraine.
He said Petro Poroshenko and he had visited the NATO summit in early September and asked the Alliance's heads for help.