Polish defence minister: Conflict in Ukraine can last for years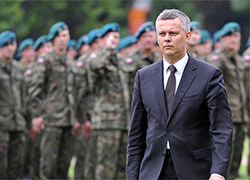 The aim of Russia is to block Ukraine's European integration, so a peaceful solution to the crisis is unlikely in the near future.
It was said by Polish defence minister Tomasz Siemoniak, Euvropeiska Pravda cites Rzeczpospolita.
"The chances of a peaceful solution to the conflict in Ukraine are fading. Taking it into account, I think we'll see very difficult months and years, because Russia's clear aim is to block the way to Europe for Ukraine," Siemoniak said.
According to him, Russia's actions show that it poses a threat to Europe. The minister is sure that security is "absolute priority" for the Polish government.
Siemoniak says that cooperation with Ukraine is strategic for Poland. "We consider strategic our cooperation with Ukraine. The formation of the Polish-Ukranian-Lithuanian brigade is number one task," he noted.
He stressed that there were no obstacles for selling Polish weapons to Ukraine on the conditions favourable for Ukraine.
Polish prime minister Ewa Kopacz said recently that Poland would not participate in the armed conflict in eastern Ukraine. At the same time, the Polish National Security Bureau said it was ready to sell Ukraine any weapons, though the country had no weapons to deliver it to Ukraine for free.