Lithuanian expert: Russia wants to make corridor from Belarus to Kaliningrad
28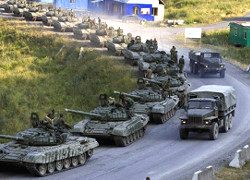 Such a scenario they practiced at exercises "Zapad 2013".
A war between Russia and the West may be conventional, and then Lithuania which is very convenient to make a corridor through from Kaliningrad to Belarus will become the first target. Latvia and Estonia will definitely be involved too, because Russia needs to provide safety of the corridor. Marius Laurinavičius, a senior analyst of the Eastern Europe Studies Center, shares his opinion, ru.DELFI.lt writes.
"Russians constantly believe they wage a war with the West. And then an issue with Kaliningrad arises. For them Kaliningrad has always been and will be the outpost both for defence and attack. This region is of an enormous military significance for Russia", Laurinavičius said.
During the Cold War it was the most militarized zone in Europe, after the Iron Curtain disappeared, the area experienced a disintegration time, but now Kaliningrad has again become a real arms depot. There are Baltic naval fleet with 3500 soldiers, more than 50 war ships and several submarines in Baltiysk.
"Over the past 10 years, the Putin's era, this area has been strengthened in relation to conventional warfare, Alexandras Matonis, the analyst of defense policy, said. -Besides, the Kaliningrad region traditionally has a lot of conventional armaments: motorized rifle divisions reorganized from divisions into brigades, but these are acting and equipped brigades and I would like to emphasize that at the moment all Russian forces there are on constant alert. It means, if the military task is set for them, they will be able to accomplish it very quickly".
According to the source, it is known that weapons in Kaliningrad are upgraded. For example, since 2012 Voronezh radar (early warning radar, providing monitoring of airspace) operates near Pionersky village.
"It can monitor all the airspace over the Baltic Sea and Northern Europe, but, practically, between the Azores and Greenland. It provides a long distance monitoring, Matonis said. - It was reported that air forces were equipped with S-400 Triumf anti-aircraft weapon system instead of S-300. It is the developed system with the operational range of about 450 km. That is, such air defence may cripple almost the entire airspace of Lithuania, Latvia, and a great part of southern Poland to the north of Warsaw".
Matonis also noted social problems. This is one of the poorest regions of Russia.
"I would like to say that the Kaliningrad region is strongly militarized area with big social problems, high level of unemployment, the region is separated from Russia, labour market is isolated, and everything is transited through the territory of Lithuania or by air. These factors contribute to the risk of this region. We know that most of military testing grounds there are deployed on the border with Lithuania", Matonis said.
According to him, many military experts believe that the Kaliningrad region is the place from which Russia can potentially attack Lithuania in case of a conventional conflict: the attack is possible across the Nemunas (Neman) river; it is possible to attempt to block the port of Klaipeda. Another line of attack is in the direction of Belarus to provide communication of the region with Russia by land, and to prevent attempts to receive aid from Poland.
"This is confirmed by joint exercises "Zapad" (West) with Belarus, for the last time they seemed to be held in autumn 2013, when they tested different attack scenarios. There were military exercises "Proryv" (Breakthrough) to make connection with Belarus", the analyst said.