Matskevich Is Tried for "Taking Part in the Rally" Whilst Being in Warsaw
10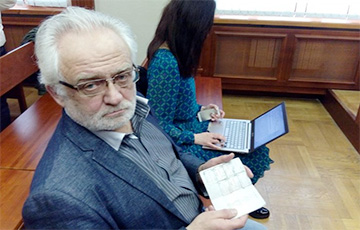 Activist presented stamps in his passport and asked to enter air tickets to prove his absence in the country during the action he had been tried for.
Philosopher and public activist Uladzimir Matskevich got into a comic situation. He is wanted to be fined for an alleged "participation in an unauthorized action." The thing is that Uladzimir was abroad then, Belsat reports.
"Matskevich asks to enter air tickets and stamps in the passport. They prove his absence in Belarus on February 15. The face of Shabunya (judge – editor's note) burst into colours. And riot policemen were emotionless like embalmed Lenin," the leader of the UCP Anatol Liabedzka wrote on Facebook.
Journalist Dzmitry Lukashuk published photos of passport of Uladzimir Matskevich: departure February 14, arrival February 16. Meanwhile, Matskevich is accused of "participation" in action on February 15, Minsk.
Eyewitnesses – policemen Yakauleu and Shyshko – confirmed that they had seen him with a poster "Job Places!". The judge Viktorya Shabunya decided to send the administrative case for further examination to the RUVD of the Tsentralny district of Minsk.