Natallia Radzina: It's Dangerous For Ukrainians To Appear On Territory Of Today's Belarus
13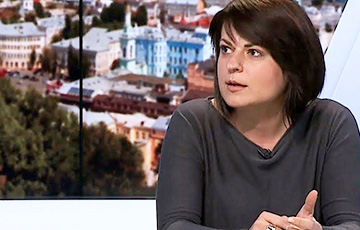 Having arrested Ukrainian Radio correspondent Pavel Sharoiko, the Belarusian authorities confirmed their dependence on the Kremlin.
Natallia Radzina, the editor-in-chief of Charter97.org, has said in her comment to the Ukrainian edition GORDON that Ukrainian Radio correspondent Pavel Sharoiko's detention in Belarus might have been carried out in cooperation with the Russian special services.
"It's some kind of absurdity, most likely, the detention has something to do with Russia, Lukashenka's regime has only confirmed its dependence on the Kremlin. We have repeatedly warned how dangerous it is to have dealings with him.
It's dangerous for Ukrainian politicians, journalists and public figures to appear on the territory of today's Belarus. I've noticed that Ukrainian politicians are trying to avoid talking about Pavel Grib, detained in Homel, upon the pretext that the FSB is to blame for that. Though, everyone understands that his detention could not be organized behind the back of the Belarusian special services. It was a collective operation together with the Russians. They act together on the whole," – Radzina notes.
She does not exclude that Belarus might send Sharoiko over to Russia.
"Journalists are killed and put behind bars in Belarus. They are spuriously accused of extremism, insulting the president, organizing riots, as it was in my case, and so on. If the Belarusian special services acted on Moscow's order in Sharoiko's case, the next step could become the extradition of the Ukrainian journalist to Russia.
And how will the Ukrainian television channels work in Belarus after that? I consider that Poroshenko's talks with Lukashenka about launching the broadcasting of Ukrainian TV channels in Belarus are just empty ones. Although, naturally, we do welcome the idea. Belarusians need objective information, but Lukashenka will never agree to it. Only a free and democratic Belarus can be a guarantor of the Ukrainian citizens' security," – Radzina stresses.
Today, Zurab Alasania, the head of the National Public Television and Radio Company of Ukraine, has reported that Ukrainian journalist Pavel Sharoiko was detained in Belarus. Zurab Alasania has noted that, according to unofficial information, the journalist is charged with espionage.
Dmitry Khorkin, the Ukrainian Radio general producer, has confirmed that Sharoiko was arrested in Belarus on October 25.