New York Activists Demanded Release Of Belarusian Political Prisoners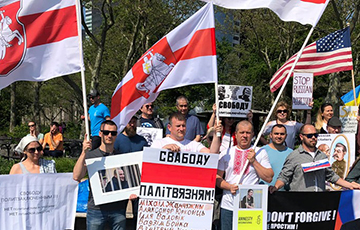 Representatives of the diaspora have held a rally.
Belarusians of America supported the representatives of the Russian diaspora in New York in holding the protest rally "Freedom To Political Prisoners" against the repression of Putin's regime, Belarusian activist in the U.S. Vadzim Vasiljeu reports on Facebook.
"The problem of political prisoners remains relevant for Belarus. As of today, nine political prisoners are held in Belarusian prisons and camps," – the event organizers stated.
The rally was held in the city park of New York on May 19.