The Border Committee Tells Who Can Enter Belarus
23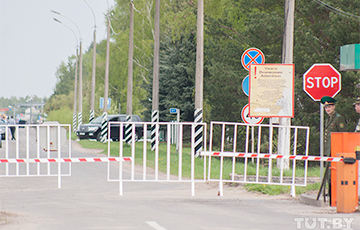 The border guards will make decisions "as situations demanded".
Belarusians are allowed to enter the territory of our country, the official representative of the State Border Committee of Belarus Anton Bychkovsky told tut.by in the morning of October 30.
- Citizens of Belarus are allowed to enter the territory of our country. There are restrictions about individuals who arrive and plan to arrive from the territory of neighbouring states. Border guards have powers to make private decisions depending on the situation with those crossing the border," said a representative of the State Border Committee.
According to Bychkovsky, "one makes personal decisions for other categories of citizens in each case".
The agency has not yet provided other details.
Meanwhile, Minsktrans reported that international traffic was resumed since 7.00 a.m. on October 30.
At the same time, Minsktrans drew attention that entrance to the territory of Belarus was temporarily restricted for some categories of citizens and recommended to look for details on the website of the SBC. Minsktrans has not yet been able to answer which categories of citizens are not allowed to enter the country.
The Ministry of Foreign Affairs of the country also does not provide any details.
What happened
In the afternoon of October 29, people reported that they could not enter the country from Poland and Lithuania. Later the same problems arose at the border with Ukraine and Latvia.
Yesterday, the State Border Committee reported that the epidemic situation temporarily restricted the entry of some categories of individuals from neighbouring countries into the territory of Belarus.
"Due to the current epidemic situation in neighbouring countries, Belarus temporarily restricts the entry of certain categories of citizens into the territory through the checkpoints from Latvia, Lithuania, Poland and Ukraine," said the agency.
The restrictions do not apply to employees of diplomatic missions and consular offices with diplomatic and service passports, drivers who carry out international transportation services, members of train and locomotive brigades of international railway traffic.
However, the checkpoint at Minsk National Airport operates as usual.