Ieva Budraitė: 'Green Wave' May Mobilize European Governments Against Belarusian NPP
5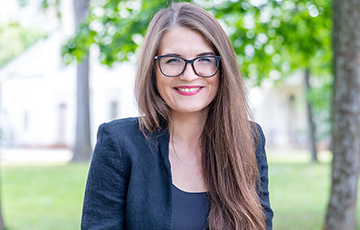 There's no place for nuclear energy in the future world.
The European Commission approved the goal of making Europe the first climate neutral continent by 2050. According to director of the Lithuanian Green Policy Institute Ieva Budraitė, such a goal is incompatible with the development of nuclear energy - and this argument may be key in mobilizing support for the boycott of "dirty" electricity from the Astravets NPP, reports Charter97.org correspondent from Vilnius.
The so-called "green wave" - the actualization of environmental problems and the search for the most environmentally friendly solutions - may become decisive in the issue of mobilizing Europeans and European governments in the issue of the "dirty" Astravets NPP, the director of the Green Policy Institute believes.
"The problem of the climate crisis lies at the heart of state policy programs in all developed countries. Intensive economic development with the depletion of limited land resources has created an extreme threat to the ecological balance, and for the future of each state. One of the main aspects is the production of clean energy. I dare say that there is no place for nuclear energy in the future world," the expert emphasized.
According to the director of the Green Policy Institute, nuclear energy uses uranium to produce fuel - this is a limited resource, which produces a significant amount of CO2. The operation of nuclear power plants requires significant water resources. Nuclear power also burdens future generations that will have to deal with the problem of radioactive waste storage.
"It takes several hundred or even several thousand years for this waste to become harmless. The world has not yet found a reliable way to store or neutralize them. This means that we leave this problem to future generations. It is unlikely that such "radioactive gifts" for our grandchildren will be understood," explained Ieva Budraitė.
The expert added that the key argument against nuclear power is the inability to ensure absolute security.
Earlier, the Lithuanian Movement Against Astravets NPP called on Lithuanian President Gitanas Nausėda and Prime Minister Saulius Skvernelis to reject the EU-Belarus Partnership Priority Agreement, which is scheduled to be signed in June.
More than 9,500 people signed the petition addressed to the European Parliament against the nuclear power plant under construction in Belarus. "The Movement against the Astravets NPP" seeks to stop the construction of the nuclear power plant, as well as to ensure the common position of the European Union not to buy electricity from the unsafe station.