Defense Lawyer of Belarusian Political Prisoners: I'm Proud to Protect Like-Minded People
2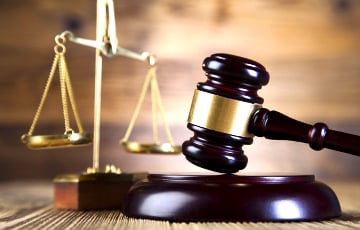 Uladzimir Sozonchuk was disbarred, but he remained a person of principles.
The Disciplinary Commission of Minsk City Bar Association decided to deprive Uladzimir Sozonchuk, the lawyer who had taken up the defence of Belsat journalist Katsyaryna Andreyeva, blogger Dzmitry Kazlou (Grey Cat) and one of the leaders of the Belarusian opposition Mikalai Statkevich, of his license.
In an interview with Charter97.org, Uladzimir Sozonchuk says he does not regret his decision to defend political prisoners:
- As they say: who else if not me? It sounds a little pompous, but I can say it. On the other hand, I defended presidential candidate Dzmitry Uss in 2010. He was tried together with Statkevich. For some reason, they did not disbar me then.
Everyone has the right to defence. It is twice as pleasant to defend like-minded people whose actions do not involve any crime. I need to pursue justice.
If I had been offered to be a lawyer early in my legal career, I would have considered it an insult. I joined the prosecutor's office and worked there for 11 years. I believed that justice and law existed there. Later I realized that the prosecutor's office didn't always equal the rule of law.
It was the year 1994. I realized my conscience didn't let me work there anymore. I decided to be a lawyer. Although, the practice of law was probably not my original calling. However, I joined the Bar to try to seek justice. However, what is the legal profession in Belarus now?
- How dangerous is it for a lawyer to work with cases of political prisoners?
- Several days ago, I asked my colleague, Lyudmila Siarheeuna Kazak, "Could you imagine when you agreed to defend Maryia Kalesnikava that it would be disbarred in the end?" Lyudmila is a smart, beautiful woman. She has three children. I'm fine and have little time left before retirement. She did not answer my question specifically.
In Belarus, a lawyer who takes on the responsibility of defending political prisoners risks to be disbarred. I still have my license, but there is no piece of hope to keep it after the appeal.
There is little threat of it if one keeps silent, agree, and at the end of the investigation write some complaints, which aren't satisfied. If one tries to seek justice, cooperate with the media to inform people, it is clear how it ends.
- In particular, you have taken up the cases of Katsyaryna Andreyeva, Dzmitry Kazlou and Mikalai Statkevich. What could you say about these people?
- Yesterday, I said to the second lawyer [Siarhei Zikratski - ed.] of Katya: "Seryozha, send my greetings and support. Tell her that I am proud to meet such a smart, beautiful, nice girl, a worthy citizen of the Republic of Belarus". I can say the same about my other clients, Mikalai Statkevich and Dzmitry Kazlou.
- Why do the authorities fight with lawyers?
- The authorities are fighting with everyone. Lawyers are as decent specialists as medical professionals, journalists, and two Katsyaryna. The authorities do their best to muzzle the voice of those who try to educate people and fight against the system.
- It is indicative that the decision to disbar is made not by courts or government representatives, but by your colleagues. Why do they make such decisions? Fear? Conformism?
- It's hard for me to judge my colleagues. I told them before the hearing that "guys, at any verdict, I'll always give you a hand and say hello". Lawyers, including the members of the disciplinary commission, are hostages like all the people in the country. If people are the hostage of one person, then the lawyers are hostages of the existing law, the bar, provisions.
Given the formality, they are formally right, giving some kind of assessment. It is about the interpretation of this or that norm, the right to apply it. Whether the deed of the lawyer who refused to sign a nondisclosure agreement is inappropriate or not.
In August 2020 [laughs], when my colleagues were considering a similar submission, there was no misconduct, which could indicate that my actions involved an administrative offence. When the lawyers received a letter signed by the head of the Ministry of Justice saying I was guilty, the lawyers reconsidered their position on the same issue and stated that the circumstances changed.
It is a fact that our bar is not independent. I think every citizen can see it. Only people who are dependent on the authorities will prove that lawyers are independent.
- What is the peculiarity of the profession of lawyer in Belarus today? After all, the number of acquittals in our courts is 0.3%. Many people consider this profession useless today.
- I cannot but agree with you. Unfortunately, the existing legislation has limited all the legal opportunities provided by the law in normal, civilized states. They allow a lawyer to fight against lawlessness if it comes from the state.
- There is an appeal to the international legal community. It urges your foreign colleagues to pay attention to the position of lawyers in Belarus. Is it crucial to talk and draw international attention to the problem of lawyers in Belarus today?
- Why is it not important? We do not live in North Korea. I do not even know whether there are any lawyers or not. One of my colleagues told me that lawyers deal only with economic cases.
Still, we live in the centre of Europe. I think that this appeal has the right to exist, and we can hope it will bring some results.
International legal structures, Russian ones (there are decent lawyers, I know Henry Markovich Reznik) can make a difference. I used to ride with him in the trolleybus to the "March Silence" [Investigative Isolator No. 1 in Moscow] back in 1992. I was an investigator who investigated the episode of the GKChP case. He was a defender of the man who isolated Gorbachev in Foros. I consider him a decent lawyer. Let's hope for the help and solidarity of foreign specialists.