Shocking Video Of Death Of Activist Vitold Ashurak In Belarusian Colony
122
25.05.2021, 21:28

126,016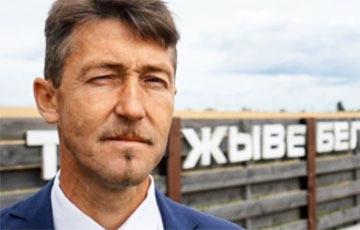 The body of political prisoner who died in the Shklou colony was handed over to his relatives only today.
On May 25, Vitold Ashurak's relatives received a death certificate.
The document says the immediate cause of death is under investigation. The R99 code according to the International Classification of Diseases means "Other imprecise and unspecified causes of death".
Today the body of the deceased was handed over to Vitold Ashurak's brother Andrei in Shklou. Family friend Volha Bykouskaya told Belsat that Vitold's head was "bandaged from head to nose, only his mouth can be seen".
Ashurak's body was dressed in a suit in Shklou and placed in a coffin, brought by his relatives. Vitold's hands were scratched in addition to the bandaged head, Radio Svaboda notes.
The Investigative Committee posted on the Internet a built up video of Shklou colony № 17, which shows a man falling twice. He was wearing a shirt with the inscription "SHIZO," which stands for "punitive isolation ward". After the first fall near the toilet he was provided with medical assistance. After the second incident, the colony staff came running to the isolation cell.
On May 21, political prisoner Vitold Ashurak died unexpectedly in the colony. His relatives were told that his heart had stopped. Vitold Ashurak's wife told journalists that her husband had never had heart problems before.
Ashurak's funeral will be held in Biarozauka on Wednesday, May 26. From 9 a.m. it will be possible to bid farewell to the deceased in the building of the consumer services centre (8 Navahradskaya St.). At 2 p.m. there will be a mass in the Biarozauka cathedral. Afterwards Vitold Ashurak will be buried in the town cemetery.