Biaroza School Headmaster Refuses Taking Teachers To Pro-Government Rally
15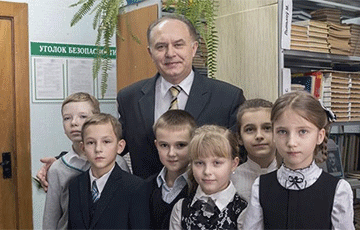 In 2020, Mikalai Zhukovich refused to falsify the elections.
Viasna's human rights activists found out that the contract of a teacher of the highest category from Biaroza, Mikalai Zhukovich, was not renewed. He is the author of school textbooks on Belarusian literature for primary and secondary grades.
Mikalai Zhukovich worked for 26 years as the headmaster of School No 1 of the Biaroza, taught the Belarusian language and literature, was engaged in scientific activities, was the author of manuals for teachers and organized meetings with cultural figures for his schoolchildren.
Local residents attribute the dismissal to the events of August 2020. Then Mikalai Zhukovich refused to participate in the falsification of the "elections", and after that, he refused to lead a group of teachers to Minsk for a pro-government rally on August 16, 2020. After that, he lost a school headmaster position and took a deputy position.
According to unconfirmed information, the Education Department of the Biaroza District Executive Committee decided not to renew the contract with an experienced teacher.