People In Uniform Attacked Polish Military On Belarusian Border Hiding Their Faces
15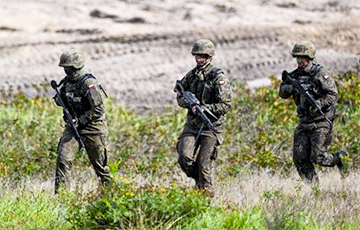 The attack took place near the village of Dubicze Cerkiewne.
A group of 7 people in uniform and disguised faces, located on Belarusian territory, threw stones at a Polish patrol at the border.
The incident happened yesterday at about 22:00 (Belarusian time) near the border village of the Dubicze Cerkiewne. According to the Polish Border Service, the men had slingshots and flashlights to blind Polish patrol. A special Tur vehicle was sent to the scene. No harm done.
Over the past 24 hours, 15 foreigners tried to enter Poland illegally. At the Płaska border sector, four citizens of Burundi and Сongo crossed the Wołkuszanka River and penetrated Poland.
101 people were detained on the Latvian-Belarusian border, and no illegal crossings were recorded on the Lithuanian-Belarusian border.