Construction of nuclear power plant 30 kilometres from Lake Naroch is criminal stupidity
6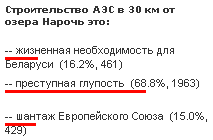 Most of voters of the poll of Charter'97 website are strongly against a decision of the Belarusian authorities to build a nuclear power plant n Astravets.
68.8 per cent of voters think construction of nuclear plant 30 kilometres from Lake Naroch is a criminal stupidity. 16.2 per cent of participants of the poll think construction of the nuclear plant is a vital necessity. 15 per cent believe the Belarusian authorities decided to build the nuclear plant to blackmail the European Union.
It should be reminded that site in the Astravets district was chosen by the Belarusian authorities for construction of the nuclear power plant. Northern west of Belarus is the land of beautiful lakes, lying among picturesque hills. It is the place full of reserves and national parks. Naroch national park, the most popular place of recreation in Belarus, is situated near.
P.S. a new poll is carried out on Charter'97 website. We offer our visitors to answer a question "Do you believe the authorities saying the national currency won't be devaluated by more than 5 per cent in 2009?"