Cases of Sannikov, Nyaklyaeu, Rymasheuski sent to court
47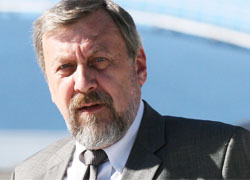 Criminal cases against presidential candidates Andrei Sannikov, Uladzimir Nyaklyaeu and Vital Rymahseuski have been sent from a prosecutor's office to the Minsk City Court.
"Cases against presidential candidates Sannikov, Nyaklyaeu and Rymasheuski have been submitted in the Minsk City Court to lay the venue," Interfax-Zapad news agency learned on Frinday from senior prosecutor's assistant Syarhei Balasheu.
The first case was opened against Khamichenka, Drozd, Kirkevich, Pratasenya, who are charged under part 2 of article 293 of the Criminal Code of Belarus, and against Vinahradau charged under part 2 of article 293 and article 370.
Persons involved in the second case are presidential candidate Andrei Sannikov charged under part 1 of article 293 as well as Vasilevich, Hnedchyk, Mirzayanau and Yaromenka charged under part 2 of article 293.
The third criminal case was initiated against presidential candidate Uladzimir Nyaklyaeu, his former campaign's manager Andrei Dzmitryeu, presidential candidate Vital Rymasheuski, member of Nyaklyaeu's electoral team Alyaksandr Fyaduta, as well as Anastasia Palazhanka. They are charged under part 1 of article 342. Syarhei Vaznyak, also involved in the case, is accused of violating part 1 of article 342 and part 1 of article 401.
We remind that Andrei Sannikov is in the KGB jail. He does not admit his guilt. According to lawyers, Sannikov called the charge against him "an absurd essay on a given theme".