Andrei Sannikov released!
1367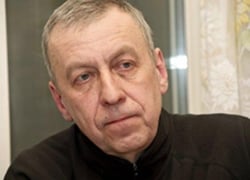 The presidential candidate was released today, on 14 April, after one and a half year in the reformatory Vitsba-3.
Right now Andrei Sannikov is on his way from Vitsebsk to Minsk. The political prisoner told charter97.org over the phone that he had been exonerated in accordance with the decree on pardon from 14 April.
"I didn't believe that I would be released till the last minute. I was transferred between reformatories so many times, and I thought it was just another transfer. I am still in shock. I'd like to thank everyone for their support and solidarity. I have never experienced such support and solidarity in my life. Thank you all so much! If it was not for you, I would never have been released. Everything was done to keep me there forever," Andrei Sannikov told charter97.org.
"Right now I cannot talk, simply because every word I say will be used against those who are still in prison. And I can say that I never acknowledged my guilt. I have written an appeal for pardon. They tried to make me acknowledge but I didn't," the presidential candidate told the Russian News Service
The politician promised charter97.org one of his first interviews.
Belarusian Presidential candidate Andrei Sannikov was arrested on 19 December 2010 and condemned to five years in a reformatory with strict regimen for organization of "mass disorder" – the label used by the powers for the peaceful demonstration of several hundreds of people against the falsifications of the presidential election of 19 December 2010.
The European Union will discuss reinforcement of the sanctions against the Belarusian regime in late April, which can have influenced the decision on the politician's exoneration.