Andrzej Poczobut has trial today
2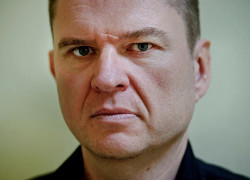 The journalist's case will be heard in the Leninski district court in Hrodna.
The trial begins at 15:30.
Andrzej Poczobut wrote it on his Facebook account. The court is expected to release the journalist from punishment.
The period of probation in the sentence given to him in summer 2011 expired on September 20.
Andrzej Poczobut was found guilty of libel against Lukashenka.
A criminal case against Andrzej Poczobut was initiated on March 28, 2011. Prosecutors said the journalist insulted and defamed Lukashenka in his articles for Gazeta Wyborcza (Poland) and on his blog.
The journalist was detained on April 6 for violating the travel ban: he planned to go from Hrodna to Minsk to take part in a conference with members of the European Parliament. He was detained for three days. The pretrial restrictions was changed from a prohibition to leave the town to detention.
Andrzej Poczobut was found guilty on July 5, 2011, and given a 3-year suspended sentence with a probation period of 2 years.